Skyrim:Sorex Vinius
The UESPWiki – Your source for The Elder Scrolls since 1995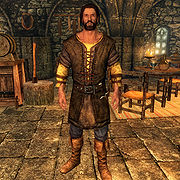 Sorex Vinius is an Imperial who works at the Winking Skeever in Solitude, and is the son of the owner Corpulus Vinius. He expects to take over the inn, should anything happen to his father (see bugs).
He grew up with Vivienne Onis and Roggvir. They were friends as children until Sorex confided his feelings for Vivienne to Roggvir. After that point, Roggvir teased Sorex incessantly, and even abused his former friend to embarrass him in front of Vivienne. Sorex came to hate Roggvir, and he is present to see his former friend executed for treason.
Upon raising Sorex's disposition, he becomes a potential candidate for marriage, and makes low value items freely available.
[edit]
Related Quests