Skyrim:Sorli's House
The UESPWiki – Your source for The Elder Scrolls since 1995
This article is being developed as part of the Skyrim Houses Redesign Project. If you see this tag it means the article can still be improved. Please see the project page for guidelines.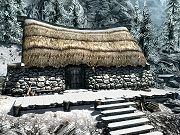 Sorli's House is a one room, stone house and the home of Sorli the Builder, Pactur, and their son Sirgar.
It is the only house in Stonehills. The house has two beds, a cooking pot, two cupboards, one end table, one dresser, one barrel, and one chest. Game and herbs hang from the ceiling in several places. On the mantel piece, there is the Speech skill book 2920, Second Seed, v5. There is a notable total of nineteen iron ingots both on the cupboard shelf and on the table. Alchemy ingredients include five pine thrush eggs (in a basket and on the table next to it) and some troll fat on the mantel piece.