Skyrim:Talen-Jei
The UESPWiki – Your source for The Elder Scrolls since 1995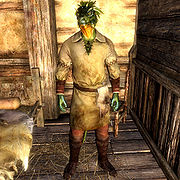 Talen-Jei is an Argonian living in Riften, and works at the Bee and Barb. He reveals that he is "smitten" over Keerava and the related quest involves the player assisting him in making a wedding ring in the Black Marsh tradition.
[edit]
Related Quests
[edit]
Dialogue
Talen-Jei will tell you about his interesting Elder Scrolls themed cocktails:
He can be seen having random conversations with other guests at the Bee and Barb, as outlined below:
Bolli: "Talen my friend, up for some fishing this week?"
Talen-Jei: "I don't know Bolli. It's getting dangerous outside the walls"
Bolli: "Oh come now, what's a dragon or two compared to a day full of fishing!"
Talen-Jei: "That's not funny, Bolli. People are scared."
Vulwulf Snow-Shod: "Talen! Another round!"
Talen-Jei: "I think you've had plenty, Vulwulf. Maybe you should head on home."
Vulwulf Snow-Shod: "You stupid lizard! I said give me some more drink, or I'll have your head on a pike!"
Talen-Jei: "Suit yourself."
Even after Sealing the Deal has been completed, Talen-Jei still may show some disdain towards the player for their actions in Taking Care of Business.
[edit]
Quotes
"Welcome to the bee and barb my lord, if I could intrest you in one our special drinks, let me know."
"You have some nerve coming back here after what you did to Keerava" if you completed Taking care of business.
"Ours is to smile at your passing friend" if you do his favor.
"It fills us with rage, what harm does it bring to us now?" if Keerava is killed by your hand.