Skyrim:Temple of Mara
The UESPWiki – Your source for The Elder Scrolls since 1995
This article is being developed as part of the Skyrim Houses Redesign Project. If you see this tag it means the article can still be improved. Please see the project page for guidelines.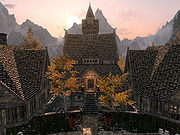 Temple of Mara is a temple in Riften devoted to the Aedric goddess Mara, goddess of mortal understanding and compassion.
Like most of Riften, the Temple of Mara is built almost entirely out of wood. The centerpiece of the Temple is a statue of Mara. There are also 3 shrines, which offer the Blessing of Mara, reducing the cost of Restoration spells by 10%.
There are three Priests of Mara: Briehl, Dinya Balu, and Maramal. When you first talk to Maramal in The Bee and Barb he will inform you that it is possible to have a wedding in the temple.
Downstairs, there's a sleeping room and cellar, with a door to the Hall of the Dead. Alessandra, Riften's Priest of Arkay, sleeps here at night.
[edit]
Residents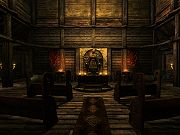 [edit]
Related Quests