Skyrim:The Chill
The UESPWiki – Your source for The Elder Scrolls since 1995
This article is being developed as part of the Skyrim Houses Redesign Project. If you see this tag it means the article can still be improved. Please see the project page for guidelines.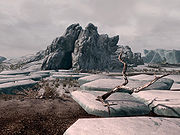 The Chill is the jail for Winterhold, located on an island north-northeast of the College of Winterhold, or northeast of Septimus Signus's Outpost across the sea. If you are arrested by a Winterhold guard and sent to jail, you will be imprisoned here. It is an unmarked location, i.e it's not discoverable on the map and cannot be fast traveled to.
The interior of the cave is guarded by a frost atronach. Three cages with adept-level locks can be found inside the cave, each containing a bed roll. There are skeletal remains in two of the cages, with common loot on them, and one cage with a lit lantern. There are also seven barrels in the cave, several of them containing up to five identical fruit or vegetables.
Upon exiting, three aggressive frost atronachs are waiting outside and will attack you on sight.
The two gold ore veins are located outside, at the top of the Chill.
Other ore veins can be found on the same island:
When arrested in Winterhold, if you choose to go to jail, the guards will respond with "Ha. Enjoy The Chill." instead of the normal dialogue.
Every time you are sent to the Chill, the frost atronach inside the jail will respawn immediately.
If you escape from the Chill, you do not incur the 100 gold bounty that you would normally receive from escaping jails in other holds.