Skyrim:The Hag's Cure
The UESPWiki – Your source for The Elder Scrolls since 1995
This article is being developed as part of the Skyrim Houses Redesign Project. If you see this tag it means the article can still be improved. Please see the project page for guidelines.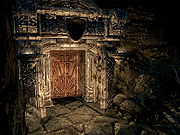 The Hag's Cure is an alchemy store in Markarth owned and operated by Bothela.
To find it, enter the city gate and turn left, turn right at the first bridge, turn left before going up the stairs at water wheel, cross the bridge, and ascend the stairs to the right, then to the left.
A good number of ingredients and potions lie around the shop. A copy of the Alchemy skill book Herbalist's Guide to Skyrim sits on a shelf under the counter.
Bothela gave the shop its name because she thought "hag" suited her in both its sense as an epithet and its sense as denoting an old woman who dabbles in mysterious and misunderstood magic. If anything happens to Bothela, her assistant, Muiri, will take over running the store.
[edit]
NPCs Living Here
[edit]
Related Quests
NOTE:
Some radiant quests have a sizeable list of possible locations. These quests are not placed on individual place pages, and are instead listed at
radiant quest locations
.
[edit]
Displayed Merchandise
The following items are sitting out in the store, for example on the store counters. They can be purchased from the merchant, or else can be stolen. Other items may also be present in the store, but those other items are not available for purchase. They respawn after ten days.
Ingredients: 2 Bleeding Crown, 7 Bone Meal, 5 Chaurus Eggs, 3 Deathbell, 2 Dragon's Tongue, 1 Elves Ear, 1 Frost Mirriam, 2 Garlic, 2 Giant Lichen, 1 Glowing Mushroom, 2 Hagraven Claw, 1 Hagraven Feathers, 2 Imp Stool, 3 Juniper Berries, 2 Lavender, 1 Nightshade, 1 Salt Pile, 1 Scaly Pholiota, 5 Slaughterfish Egg, 3 Snowberries, 1 Troll Fat
Poisons: 1 Poison, 1 Weak Poison
Potions: 1 Draught of Extra Magicka, 1 Draught of Strength, 1 Potion of Extra Magicka, 2 Potion of Health, 1 Potion of Minor Magicka, 3 Potion of Minor Stamina, 2 Potion of Plentiful Healing, 2 Potion of Plentiful Magicka, 1 Potion of Resist Fire, 1 Potion of Stamina, 3 Potion of Strength, 1 Potion of Ultimate Magicka, 1 Stallion's Potion
[edit]
Standard Merchandise
This is the merchandise found in the store's merchant chest. These items are only available if purchased from the merchant; they cannot be pickpocketed or stolen. They are restocked every two days.
There is a "Loot" shadowmark to the bottom left of the entrance door. There are several alchemical ingredients, potions, and poisons found around the store.