Skyrim:The Reach
The UESPWiki – Your source for The Elder Scrolls since 1995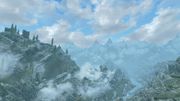 The Reach is a hold in western Skyrim, with its capital in Markarth. It is initially affiliated with the Imperial Legion, but can be captured by the Stormcloaks after completing Compelling Tribute and The Battle for Fort Sungard. It can also change sides as part of negotiations during Season Unending.
The terrain is mountainous and the area is home to many members of the Forsworn, the hostile natives of the region who will kill any outsiders without hesitation.
All locations in the Hold with individual map markers are listed. There are a few places without map markers listed for their significance.
[edit]
Related Quests
This page or section is incomplete. You can help by adding to it.
The list isn't exhaustive, and should be separated into third-tier sections for the different factions.
For more information, see the help files, the style guide, and this article's talk page.