Skyrim:The Treasury House
The UESPWiki – Your source for The Elder Scrolls since 1995
This article is being developed as part of the Skyrim Houses Redesign Project. If you see this tag it means the article can still be improved. Please see the project page for guidelines.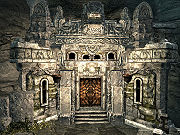 The Treasury House is a financial house for the Reach.
The Treasury House is the main financial institution of Markarth. It is in a mid-level, northern area of the city. It provides financial support and services for the landowners of the Reach, notably the Silver-Blood family and its patrons. All the miners, farmers, and day-laborers of the Reach get their wages through the Treasury House. Rhiada runs the front desk, where the actual treasury is kept behind an Expert-locked gate. Nana Ildene (who has worked there for over twenty years) and Donnel keep things tidy. Thonar Silver-Blood, who handles all of his family's business, effectively controls the establishment. Betrid, Thonar's wife and an admitted and unrepentant gold-digger, can also be found here.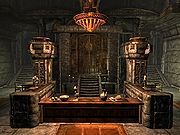 [edit]
NPCs Living Here
[edit]
Related Quests
There is a "Loot" shadowmark to the bottom left of the entrance door. There are several silver ingots and a safe behind the gate behind the front counter.
There is a copy of the Archery skill book Vernaccus and Bourlor on a circular ledge with a pot on the west side of the main room.