Skyrim:The Warrens
The UESPWiki – Your source for The Elder Scrolls since 1995
This article is being developed as part of the Skyrim Houses Redesign Project. If you see this tag it means the article can still be improved. Please see the project page for guidelines.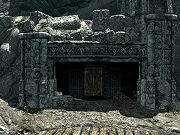 The Warrens is a shelter for the sick and homeless in Markarth. Hidden away a few feet from the Markarth Smelter, The Warrens is where the extreme lower-class citizens of Markarth reside, the miners and smelters, the sick and the lame. The place is degrading and disgusting, evident by the sick Cairine sitting on the floor all day long, warning you about the place. It contains five rooms for the inhabitants, all with owned hay piles and a sparse amount of belongings.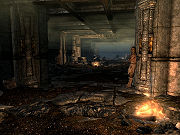 [edit]
NPCs Living Here
[edit]
Related Quests
There is an "Empty" shadowmark to the top left of the entrance door.