Skyrim:Tsun
The UESPWiki – Your source for The Elder Scrolls since 1995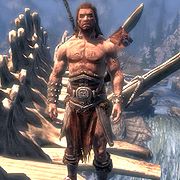 Tsun, a Nord hero, is the shield-thane of Shor, and the guardian of the bridge to the Hall of Valor. When you first encounter him, he will ask you by what right can you enter Hall of Valor (see dialogue). Upon selecting a valid right, you must prove your strength in combat against him to gain entrance to the Hall. After you defeat Alduin, Tsun teaches you the Call of Valor shout and sends you back to Skyrim.
[edit]
Related Quests
[edit]
Dialogue
When first encountering Tsun, he will challenge your right to enter the Hall of Valor. Depending on what questlines you have completed, various responses are available:
Default (available to all): "By right of birth. I am Dragonborn."
"Ah! It's been too long since last I faced a doom-driven hero of the dragon blood."
Companions: "By right of glory. I lead the Companions of Jorrvaskr."
"I welcome the chance to challenge the blade of Ysgramor's heir, honored shield-brother/sister to Kodlak Whitemane, whom I've watched for in vain."
"Well met, mage of Skyrim. The Nords may have forgotten their forefathers' respect for the Clever Craft, but your comrades throng this hall. Here in Shor's house we honor it still."
"You trespass here, shadow-walker. Shor does not know you. Perhaps before the end you will earn the right to pass this way. Welcome I do not offer, but your errand I will not hinder, if my wrath you can withstand."
Thieves Guild: "By right of plunder. I am a Nightingale of Nocturnal."
"Do not mistake the night-shrouded thief's stealthily-taken spoils, stolen and unearned, for a warrior's plunder, won in honorable battle. Your doom already binds you to your dark mistress, but your errand I will not hinder, if my wrath you can withstand."
[edit]
Apparel
Name (ID)
Type
Tempering
Notes
Tsun's Armor


(000c0165)

Light Armor
Not possible
0
0
29
Tsun's Boots


(000c0166)

Light Boots
Not possible
0
0
8
Cannot be equipped by the player.
Tsun cannot be staggered or ragdolled, so he cannot be shouted off the ledge using Unrelenting Force.

You can toss him off the ledge using Vampiric Grip. Doing this during the fight counts as beating him in combat, and he'll respawn in the Hall of Valor and walk back outside. But if you toss him out during or after Dragonslayer, he'll be stuck behind the unpickably-locked doors to the Hall, stranding you in Sovngarde.
It is quite possible to paralyze Tsun, after which he will be quite susceptible to magic spells; using Paralyze and then Lightning Storm will make Tsun bounce around like a pinball, resulting in him flying off the cliff at amazing speeds.

Tsun is one of the tallest NPCs in the game; even players who are Altmer will find that they are only as tall as Tsun's shoulders.
Tsun is a higher level NPC, so running and climbing up the hill (by the beginning of the path to the Hall) and hiding behind the rock at the ledge will cause Tsun to be unable to get past. Using long range destruction magic or bows make Tsun an easy defeat, allowing you access.
You don't have to kill Tsun to get into the Hall of Valor, but deplete nearly 75% of his health. Tsun is essential, so if you do attempt to kill him after the defeat dialogue, he will squat down in recovery position and attack when finished, and be unkillable.
Tsun will use a three-word Unrelenting Force shout in combat.
If you exit dialogue with Tsun and try to cross the bridge to the Hall before fighting him, you will be killed by lightning about halfway.
Tsun cannot be disarmed of his weapon.