Skyrim:Uaile
The UESPWiki – Your source for The Elder Scrolls since 1995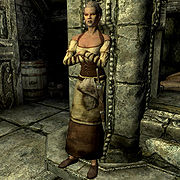 Uaile is a Breton witchblade who lives in Markarth. She works as a maid for Nepos the Nose, or so she would like you to think. She is actually a Forsworn agent who guards the hall of Nepos's house and questions visitors to see if they are a threat. When Nepos reveals his little scheme in Markarth, she abandons her charade and attacks you on sight.
When entering the house for the first time she will be highly suspicious and questions you on your reasons for coming to the house. She may greet you with "This is a private home, and the master of the house is a very old man. He's not to be disturbed" and if she is questioned on her occupation she will try to once again dismiss you with "If you must know, I'm the maid. And the master of the house is old and needs his rest".
She wears a set of barkeep clothing and a pair of shoes. She carries a key to Nepos's house and some lower-class loot and gold. She is equipped with a steel dagger, but when in combat, relies predominantly on destruction spells.
[edit]
Related Quests
[edit]
Spells
Uaile knows the following spells: