Skyrim:Uttering Hills Cave
The UESPWiki – Your source for The Elder Scrolls since 1995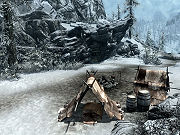 Uttering Hills Cave is a cave occupied by bandits, in the mountains to the west of Windhelm.
It can only be reached from directly north or south. The easiest is to travel to Anga's Mill, cross the river and climb the path. Outside the cave is a small camp, with two bandits guarding the entrance.
[edit]
Related Quests
NOTE:
Some radiant quests have a sizeable list of possible locations. These quests are not placed on individual place pages, and are instead listed at
radiant quest locations
.
[edit] Zone 1: Uttering Hills Cave
On a small table to the left is a leveled poison. The mined area turns into snowy cave tunnels and has a few corners. The path diverges into two paths to the left and right, both patrolled by a guard. There are two bandits warming themselves by a fire with a cooking pot. There is a chest beside the fire and a Corundum Ore vein to the west.
The door leads to a circular tower room, at the bottom of which is an alchemy lab and a random potion. Hanging above the lab is a dried Elves Ear and a dried Frost Mirriam. There is a bandit patrolling between the room and the next stairs, and another one sitting at the far end of the tunnel. The room to the right contains some bread and cheese, with a door to either side. The room to the left contains two bandits—one awake and one sleeping—a knapsack, and a leveled potion.
The other room contains the bandit's boss, a bed to the left, the One-handed skill book Mace Etiquette on the shelves by the bed, and a boss chest to the right.