Skyrim:Vald
The UESPWiki – Your source for The Elder Scrolls since 1995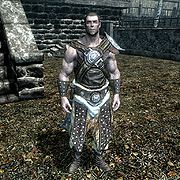 Vald, a Nord bandit, is an associate of the Thieves Guild in Riften. Vald previously completed jobs for Maven Black-Briar, but during a job in which he was transporting the Quill of Gemination across Lake Honrich, he crashed the boat and lost the quill. Since then, he has been in debt to Maven, and works as a guard watching over Riftweald Manor, which is owned by Mercer Frey.
[edit]
Related Quests
Even if you kill Vald, you will still have the dialog option to erase his debt with Maven. Attempting to erase Vald's debt after he is dead will still earn you leveled gold, but you will be unable to complete the quest by delivering the letter of pardon. The quest and item will stay active.

This bug is fixed by version 1.2.4 of the Unofficial Skyrim Patch.
If the undelivered letter bothers you, it seems you can place it on owned bookshelves.

It's possible that Vald won't come talk to you at the gate when you bring him the note to clear his debt, becoming hostile toward you instead.