Skyrim:Vulwulf Snow-Shod
The UESPWiki – Your source for The Elder Scrolls since 1995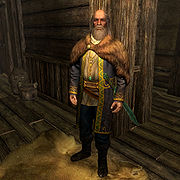 Vulwulf Snow-Shod, a Nord warrior, is a staunch supporter of the Stormcloaks. His daughter, Lilija, became a battle maiden for the Stormcloaks at the start of the rebellion and was killed by Imperial soldiers. Consequently, Vulwulf is resentful to all Imperial troops and supporters and makes no attempt to hide this. If you are an Imperial, he will greet you with disdain, saying "Be brief Imperial, there's only so long I can stand being downwind of your stench." and end conversations by saying "Imperial bastard."
In The Bee and Barb, Vulwulf may ask his son Asgeir Snow-Shod to drink to those fallen Stormcloaks with him:
Vulwulf Snow-Shod: "Drink up, my boy! Drink to those who have fallen! May their souls find their way to Sovngarde!"
Asgeir Snow-Shod: "Take it easy, father. You're making a scene."
Vulwulf Snow-Shod: "I'll rest easy when we've driven every last Imperial pig back across the Jerall Mountains!"
Vulwulf Snow-Shod: "Now, do me the honor I deserve as your father and drink up!"
Asgeir Snow-Shod: "Yes... father."
Sometimes, he may also be seen being angry with Talen-Jei about his drink:
Vulwulf Snow-Shod: "Talen! Another round!"
Talen-Jei: "I think you've had plenty, Vulwulf. Maybe you should head on home."
Vulwulf Snow-Shod: "You stupid lizard! I said give me some more drink, or I'll have your head on a pike!"
Talen-Jei: "Suit yourself."
If Vulwulf is dead, he will nevertheless "come" to the wedding during the quest Bound Until Death, as his wife will. His dead and naked body will spawn at the place he's supposed to stand.