Skyrim:Western Watchtower
The UESPWiki – Your source for The Elder Scrolls since 1995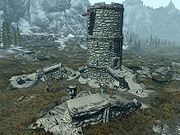 Western Watchtower is a dilapidated stone fort west of Whiterun. It is situated alongside the main road that runs west from Whiterun. It is used by the Whiterun city guard to watch for any danger to the city that could approach from the west. The entrance to the tower is at the top of the remains of an outer wall of a fort that has fallen into disrepair, in the area between the fallen walls there is a training dummy, and the charred remains of a wooden hut.
Inside the tower, there are two bedrolls and a small table with a lantern. The second floor contains an archery target and a pile of hay while the roof is empty.
After Dragon Rising, four Whiterun Guards are left to guard the tower and keep watch for enemies.
[edit]
Related Quests
There are two Iron Ore veins in the rocks to the west.
The watchtower flies Imperial Legion banners despite the fact that it is affiliated with Whiterun and patrolled by Whiterun guards, even if Whiterun sides with the Empire during the civil war.
The Western Watchtower will not be marked as a location on your map until the quest Dragon Rising begins.
[edit]
Gallery