Skyrim:Whiterun Imperial Camp
The UESPWiki – Your source for The Elder Scrolls since 1995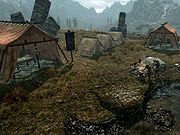 Whiterun Imperial Camp is a small Imperial camp to the east of Rorikstead.
The commanding officer of this camp is Legate Quentin Cipius. If you are aligned with the Stormcloaks, the soldiers will draw their weapons and tell you to leave when you approach them. If you linger for too long, they will attack you. Unlike most military encampments, there is no quartermaster.
You can find a cooking spit, an anvil and a grindstone alongside the large pond. An alchemy lab can be found next to a medical tent housing three wounded soldiers. Next to the medical tent is the Legate's tent, with a workbench to the side. The Legate's tent contains a bed, a chest and an end table. Next to this tent are three one-man tents that are free to sleep in. Next to the small tents is a large tent containing a map of Skyrim and an end table.
At the very beginning of the game, Quentin Cipius spawns where the camp is supposed to be, standing in the wilderness. If you join the Stormcloaks and take over Whiterun, the camp will be set up and Quentin will find a purpose in the wilderness. However, if you side with the Imperials and defend Whiterun, Quentin will show up in Dragonsreach and the camp will never be built. Oddly, a duplicate of Quentin will still exist in the wilderness, even if Quentin is in Dragonsreach.