Skyrim:Wreck of the Winter War
The UESPWiki – Your source for The Elder Scrolls since 1995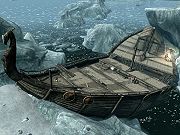 The Wreck of the Winter War is a shipwreck overrun with bandits. It is located east-southeast of Snow Veil Sanctum and far northeast of Windhelm.
Several bandits are camped here, including a bandit chief. One of the bandits is on lookout and may see you approach.
A copy of the Lockpicking skill book Surfeit of Thieves can be found below deck on top of a crate, which is located next to a chest with an Expert-level lock.
An unmarked camp can be found nearby. Walk up the ramp on the front half of the ship and follow the ledge around the bend. You'll see an island to the northwest. Jump across the ice to get there with minimal swimming. To the right, you'll see the camp. On top of a crate next to the fire pit you'll find a Fisherman's Journal, which tells about two fishermen out of luck.
You'll see a boat docked in the camp. Look directly ahead of it to find another boat overturned in the water. When you try swimming to it, you'll stir a mob of five slaughterfish. Past them you'll find a knapsack and leveled loot directly beneath the overturned boat. The skeletons of the two unfortunate fishermen, Skeggr and Advard, will slowly float to the surface and continue down the current, traveling northeast of the overturned boat.
[edit]
Related Quests
NOTE:
Some radiant quests have a sizeable list of possible locations. These quests are not placed on individual place pages, and are instead listed at
radiant quest locations
.
The water inside, around, and directly south of the shipwreck may not have the usual water overlay. You can see under water as clearly as above water. ?