Skyrim:Yatul
The UESPWiki – Your source for The Elder Scrolls since 1995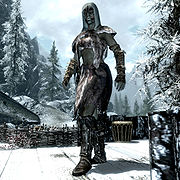 Yatul is an Orc ranger of Narzulbur, the Orc Stronghold of Eastmarch. She is an aunt to the tribe's Chieftain, Mauhulakh.
Yatul is the only member of the tribe to be active all day long. She patrols the walls of the stronghold without rest and never actually enters the longhouse.
Yatul wears a hat, gloves, leather boots, and some fur armor. She carries a collection of lower class loot and gold, a leveled war axe, bow, and 20 arrows, all of which can be up to Orcish in quality.
Normally her position would belong to one of the Chief's wives, but with all his wives deceased, Mauhulakh has had to rely on his aunts to take care of him and his children. Yatul isn't bothered by this difference from Orc tradition at all and prefers it this way. "Mauhulakh. He wants to be a leader, but spends too much time moping over women. Bolar and I should be all he needs." Her relationship with the Chief has raised suspicions with his son, Dushnamub, while his daughter, Urog, is oblivious.
If you are not already known to the Orcs of Skyrim (or an Orc yourself), she will most likely be the first one you encounter when trying to enter Narzulbur's gate. Talking to her would start the quest to find the Forgemaster's Fingers. However, any Orc can start this quest.