Skyrim:Yngol Barrow
The UESPWiki – Your source for The Elder Scrolls since 1995
This article is about the location. For the quest, see Yngol's Barrow.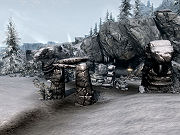 Yngol Barrow is a barrow northeast of Windhelm on the south bank of the White River.
[edit]
Related Quests
Note: This location is one of many potential targets for one or more of the radiant quests found on this page.
[edit]
Detailed Walkthrough
The layout of the barrow is pretty linear: there are twists and turns but the main path will not split. Bouncing blue orbs are found throughout the barrow and will follow you around. At no point do these orbs become hostile.
Rotating Pillars:
The rotating stone puzzle is solved by reading Notes on Yngol Barrow, found on the Dead Scholar in front of the gate. The notes give a translation describing three animals in their habitats. To your right, as you face the locked gate, you will find an alcove with a throne, and an alcove with running water: the pillar in this alcove must be turned to the Whale symbol. On the opposite side, there is an alcove covered in weeds and plants: its pillar must be turned to the Snake symbol. The pillar in the last alcove, with sunlight shining through, must be turned to the Eagle symbol. The throne opposite the sunlit pillar requires no action on the part of the player.
Bridge: You will come across a room with a bridge crossing some shallow water. Underneath the bridge are a chest and a burial urn.
Swinging Gate Trap: Further ahead there is a locked gate with some minor treasure inside. Turning left just before it, you will find a leveled greatsword next to some snowberries. Shortly past here is a swinging gate trap, activated by a pressure plate. Past the trap is a chest containing loot. To the right is a wide corridor, at the end of which you will find the puzzle door.
PuzzleDoor: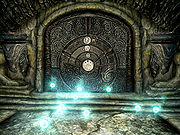 Eventually, you will find a puzzle door with the typical 3 circles to be aligned. The combination is found on a coral dragon claw which you may find on a pedestal earlier in the barrow, or by visiting Birna in Winterhold.
Note: Although Birna is a shopkeeper, she will sell the coral dragon claw for 50 gold through a separate dialogue option.
The correct combination for the puzzle door is (starting from the outer ring): Snake—Wolf—Moth.
Throne Room: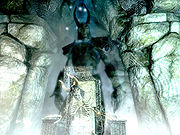 Behind the puzzle door is a tomb with a throne. A ghost-like draugr (the bright mist in the room makes him hard to see) will animate and attack you once you step in the room. Depending on whether or not you have the Dungeon Delving quest (see Notes section), this encounter may lead you to obtain the Helm of Yngol or the Helm of Winterhold. Beyond the last foe, there is a gate that unlocks when you push the button next to the door and take the helm, providing a quick shortcut to the outdoors.