Skyrim:Yngvar the Singer
The UESPWiki – Your source for The Elder Scrolls since 1995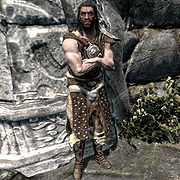 Yngvar the Singer is a Nord barbarian who can be found in Markarth, outside The Treasury House. He provides help with Calcelmo's problem during The Book of Love.
He is appointed housecarl to Thongvor Silver-Blood if the Stormcloaks gain control of the city, but if the Empire takes The Reach later, he will be relocated in Palace of the Kings in Windhelm.
Yngvar wears some studded armor along with a pair of hide boots. He carries a key to the Treasury House and a selection of common loot and gold. In combat, he relies on a steel warhammer.
When talking to Yngvar for the first time, he reacts most favorably to the response, "More blood is always better."
[edit]
Related Quests