Skyrim:Ysgramor's Tomb
The UESPWiki – Your source for The Elder Scrolls since 1995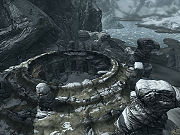 Ysgramor's Tomb is a Nordic ruin northwest of Winterhold containing draugr and frostbite spiders.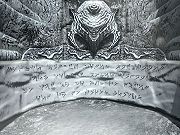 Entry to Ysgramor's Tomb is unlocked by the Companions questline. A word wall which teaches part of the Animal Allegiance shout is located outside the tomb at the top of the island. The simplest way to get there is through the tomb itself (tunnel to the left as you face Ysgramor's statue), but you can climb to it without entering the tomb. The best approach to climbing is on the northwest side, it is only a short way up to the path that you would take exiting the tomb. Just north of the word wall is a gold ore vein.
[edit]
Related Quests
NOTE:
Some radiant quests have a sizeable list of possible locations. These quests are not placed on individual place pages, and are instead listed at
radiant quest locations
.
If you are sent to Ysgramor's Tomb by a radiant quest, it is impossible to complete the quest unless you have started Glory of the Dead, which means that you need to complete the entire Companions questline.
You can reach the word wall for the Animal Allegiance shout with some tricky mountain climbing jumping half way up the mountain wall near the entrance to Ysgramor's Tomb, even before starting the Glory of the Dead quest.