Tes3Mod:Tamriel Rebuilt/Drolar Manor Ruin
The UESPWiki – Your source for The Elder Scrolls since 1995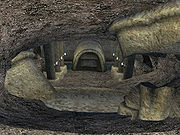 Drolar Manor Ruin is an ancient ruin located deep within the Dulun-Sarethi Egg Mine, inhabited by a lich.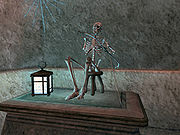 The ruin is built like a manor, with an antechamber, a dining room and a bedroom (locked) on the ground floor and a couple of cages in the basement. But don't expect a warm welcome, because the place is teaming with undead and the lich, Lord Drolar, in the bedroom is a tough opponent. The door to the bedroom has a very high lock level, but it can be unlocked with the Drolar Manor Key which lies on the table in the 'dining' room.
The ruin has a fair share of loot:
The shortsword Flametail (beware for the trap, see the note below).
When you take the sword Flametail with you, (It can be found in the corner, underneath the ogrim's head) the two skeletons in the first room will rise from the dead to stop you from exiting the ruin.
The ruin was meant to be inhabited by a high-level vampire (hence the cattle cages) but a lich was placed here in the NPC stage of the map's design.