UESPWiki:Featured Images
The UESPWiki – Your source for The Elder Scrolls since 1995

Featured images follow the same nomination process as for Featured Articles, but as they appear in a different section of the main page, a separate series of votes is held to decide which images meet the required standard.
For an image to be eligible for Featured status, it must be used in a UESP article. This is to prevent specially-taken beauty shots from stealing the limelight.
A gallery of older Featured Images can be found here. Similarly, the archives of previous nominations can be found here. Note that not all failed nominations are included.
[edit]
Featured Image Process
[edit]
Nomination
Any registered member can nominate any image at any time. Nominated images should be of high quality and meet the site's image standards.
To nominate an image, list it on the bottom of this page with a three-tier heading, (===Example===), and briefly explain why you think the image should be given featured status.
Example:
[edit]
Voting
After an image has been nominated, any registered member can vote to support or oppose each nomination. Each member can only vote once for a given image, but a member may change his/her vote by striking out the original vote and replacing it with the revised vote.
To vote on an image, state whether you support or oppose the image for featured image status. A vote should be in bold, and all votes must be signed. For example:
* '''Support''': <Comment> --~~~~ or
* '''Oppose''': <Comment> --~~~~
Commenting with your vote is optional, but if you oppose a nomination, please state how the image must be improved to get your support for featured status.
If you are not yet ready to vote but would still like to add your thoughts, you may use:
* '''Comment''': <Comment> --~~~~ or
* '''Question''': <Question> --~~~~
And fill in your concerns or questions.
[edit]
Decisions
UESP Administrators will periodically make decisions on image nominations. Decisions will only be made if:
The image has been nominated for more than seven days.
Five or more votes have been placed.
A clear consensus has been reached (either supported or opposed for featured status).
Nominations not meeting these criteria will be left open until a decision can be reached.
Images whose nominations pass will receive featured image status on the front page for two weeks (which may be extended up to one month if there is a shortage of images), and receive a small bronze star (

) on the top right corner. If an image achieves featured status before the present featured image's time expires, it must wait its turn.
[edit]
Current Featured Image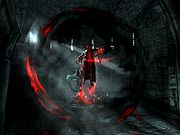 Next
[edit]

Nominations and Votes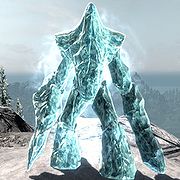 Well I was eating my pizza and I was surfing the wiki...yeah - enough about how I came across this particular image. But as soon as I saw it, I stopped and thought that the overall composition and framing of it is stupendous in my eyes and visually eye catching. I love how the "wisps" of ice cold air seem to radiate off of the Frost Atronach and reflects also upon the climate that this shot was taken in. Plus the simplicity of the shot overall makes it stand-out :)
Support: As nominator. -

helenaanne

  talk ♥ 23:25, 8 May 2013 (GMT)
Support: Wow. The sunlight streaming through its aura from behind looks really cool. --Xyzzy Talk 00:29, 9 May 2013 (GMT)
Oppose: When I saw this being nominated, I looked at the thumb and thought "holy **** that looks amazing". I then blew up the image to full scale to get a better look, and my excitement quickly faded away. First off, I want to say that the Atronach itself is pretty well done. The only thing about it is the way that the lights interact with the legs in particular to make the shadowing on the creature look very inconsistent. The biggest thing in my opposition is actually the background. The long shot and the closer trees are nice, but look at the mountains that it is standing on. There's so much texture stretching it almost hurts my eyes, and I think that we do not need to put graphical missteps like that on the front page. --

Half

Stache

04:47, 9 May 2013 (GMT)
Slight Oppose: I agree and all when you say the background but considering that it's frost atronach, there's not enough contrast (however, it does look appealing). Perhaps change the atronach or find one with a little green in the background. Just my opinion by the way. Nice work though! --Tiberseptim2 16:58, 9 May 2013 (GMT)
Comment: Unfortunately that is the downside to the in-game graphical aspects of some parts of Skyrim. Without serious modification in-game and to the image, we can't really do much except for taking it in a different location -- which in itself may either allow the Frost Atronach to stand out further, or diminish the image and actually harm it rather than improving it. Either way, there's nothing we can really do to improve the in-game graphics as we have to provide images exactly as you would encounter them in-game. -

helenaanne

  talk ♥ 05:08, 9 May 2013 (GMT)

Comment: I've said this many times before, but we shouldn't look over some graphical flaw in an image just because "it's part of the game". There are plenty of great images which hide issues or sneak around them, and those are the ones that (if they look great in other ways too) we should feature. --

Half

Stache

05:15, 9 May 2013 (GMT)

Comment: That is why, if you read the entire comment, I suggested that if it were to be taken in a different setting that were highly effective -- yet hid any of the in-game flaws that Skyrim has, that that aspect of which you are mainly opposing for, could then be overlooked. -

helenaanne

  talk ♥ 05:38, 9 May 2013 (GMT)
Slight Support: The image itself is not really groundbreaking or "special", but I do like the details and how solid the atronach looks. --Quill-Tail (talk) 06:26, 9 May 2013 (GMT)
Comment: I know it's not overly extravagant in anyways. That's what I like most about it when I nominated the image. I liked the simplicity - heck I'm even known to love simple things as well. Plus generally in more extravagant and detailed images, sometimes certain aspects tend to be overlooked or lost within the image from my personal experience. -

helenaanne

  talk ♥ 06:38, 9 May 2013 (GMT)
Comment: Yes, Nocte Canticum is absolutely correct. This is not a chatroom or forum and we don't need to nominate or discuss every single image on the wiki. Also, please wait with further nominations until the current ones are closed - this is getting a bit ridiculous. --Krusty (talk) 10:02, 16 May 2013 (GMT)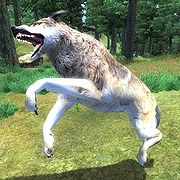 I've been reading what people have been looking for and while browsing I thought Wow! A great action shot of a wolf in combat. The background and surroundings are satisfying!