User:HMSVictory
The UESPWiki – Your source for The Elder Scrolls since 1995
This account is no longer active, and I now edit under the username Itachi. Note that most of the information on this page is out of date, and serves merely as a record of my previous work here.
INNOCENCE PROVES NOTHING

Disclaimer: Any similarity to actual events or persons living, dead (or undead) is purely coincidental. The distributor of material herein accepts no responsibility for viewer blindness, inflammation of the Pancreas, laughing oneself to death, or the emptying of one's bowels over one's instrument of backside renewal and/or comfort. The posting of certain informative messages upon the distributor's Talk Page is explicitly encouraged.
| | |
| --- | --- |
| | This user is from Great Britain. |
| | |
| --- | --- |
| | This user is from England. |
| | |
| --- | --- |
| | This user is knowledgeable about Tribunal. |
| | |
| --- | --- |
| | This user plays in wide-screen (1440x900 - 16:9). |
| | |
| --- | --- |
| | This user is knowledgeable about Oblivion. |
| | |
| --- | --- |
| | This user is male. |
| | |
| --- | --- |
| | This user plays on the PC. |
| | |
| --- | --- |
| | This user does not contribute by using a web browser. Rather, he uploads material directly to the internet by using the awesome power of his mind. |
| | |
| --- | --- |
| | This user is a Dwemer scholar. |
| | |
| --- | --- |
| | This user plays by smashing the keyboard with his fists. |
| | |
| --- | --- |
| | If this user liked pie nearly as much as he should, then he would be eating one right now instead of contributing to the Wiki. |
| | |
| --- | --- |
| | This user is an atheist. |
| | |
| --- | --- |
| | This user is Radioactive. Approach with extreme caution - he may be highly unstable. |
| | |
| --- | --- |
| | This user despises and fights in open resistance against the evil vandal scum! |
| | |
| --- | --- |
| | This user is a Dark Lord of the Sith. |
| | |
| --- | --- |
| | When this user edits, he becomes one with the machine. |
| | |
| --- | --- |
| | 7h15 d00d ]2 1337 t3h pwnz l0l0l0l!!11! |
| | |
| --- | --- |
| | This user can go hang. |
| | |
| --- | --- |
| | If this user wasn't incredibly friendly, this userbox wouldn't exist. |
| | |
| --- | --- |
| | This user can accomplish anything with a piece of cheese. |
| | |
| --- | --- |
| | This user is a Corporate Penguin. |
| | |
| --- | --- |
| | This user knows exactly how to enter a dungeon. |
| | |
| --- | --- |
| | This user is a member of Mensa. |
| | |
| --- | --- |
| | This user was recently deafened by the almighty sounds of DragonForce, and therefore can no longer hear you. |
[edit]
About Me
Real Name: Michael Julian Westmuckett-Martin (Quite a mouth-full, isn't it?).
Location: Hampshire, England.
PC Specs: Microsoft Windows XP Home Edition (Service pack III) with ATI Radeon R600 Graphics Card, EAX 4 Soundcard, Intel Quad-Core Processor complete with coffee-machine and home shredder!
Gaming Interests: Call of Duty, Call of Duty United Offensive, Call of Duty 2, Call of Duty 4, Warhammer 40,000: Dawn of War (+ Winter Assault, Dark Crusade and Soulstorm), Total War (Rome, Medieval and Medieval II), Supreme Commander, Star Wars Battlefront II, Microsoft Flight Simulator X (Deluxe Edition), The Sims 2 (+ Most of the expansions), Metal Marines and GTA San Andreas.
Musical Interests: Weird Al Yankovic, Brian Setzer, Queen, R.E.M., DragonForce, Blind Guardian, Pink Floyd, Daft Punk and Disturbed.
User Account Created: 2 November 2007
"Our business in life is not to succeed, but to continue to fail in good spirits."
- Robert Louis Stevenson

My first experience of TES was Morrowind. I found it in Game just lying there, untouched and unloved. After I started playing, I realised that it should have had a whole section of the shop to itself! I must have clocked over 400 hours on the GOTY Edition. After realising how amazing TES is, I then proceeded to purchase Oblivion about a week after its release. I now have all of the DLCs, but not Shivering Isles. At the moment though, I am intently following the action around TES V, which I hope will turn out to be my next main addiction, not that I have one already...
I have also made many expansive mods for Morrowind, including a whole new island west of Vvardenfell, massive interior and exterior extensions to Tel Fyr and Tel Uvirith, and a new Velothi Tower called Eromiran in the Sheogorad region. I also seem to have a strange interest in filling towns with different types of guards who are set to attack each other (Anyone else ever done that?). It saddens me that Morrowind was devoid of real homes, so I make my own instead! I have yet to release any of my mods on the internet.
"In quarreling, the truth is always lost."
- Publius Syrus
[edit]
Playing Style
In Morrowind, I have about 30 - 40 different characters. In Oblivion, I have around 14. I found that Oblivion was much easier to complete than Morrowind, and the Fast Travel feature really spoilt the game. In Morrowind, one had to wander the map looking for one tiny object or cave, forcing the player to learn their surroundings well (Unless you used the COC cheat, which ruined the whole concept).
When I began to play Morrowind GOTY, I did not install Tribunal or Bloodmoon. I found the game quite testing as nearly all of my other games at the time were RTS's. Then I found cheats. That was probably the worst thing I have ever done. It sucked ALL the fun right out the game. So then I retorted in disgust, and suddenly realised how better RPG's are if you don't cheat.
"Every decision you make is a mistake."
- Edward Dahlberg
[edit] HMS Victory
HMS Victory was (and technically still is) a 104-gun ship of the line of the Royal Navy. She is the oldest naval ship still in commision anywhere in the world. I have a deep interest in history, so it is no wonder that I enjoy the topic of the Dwemer. I have visited and explored Victory an innumeral amount of times; I practically know the layout of the decks off by heart. I am known as HMSVictory or HMSWarrior (Another remarkable warship) on anything else I am a member of. When joining the Wiki, I pondered breaking my name-trend and going with something related to the Daedra or Dwemer. Eventually however, in my infinite wisdom, I succumbed to this crazy urge.
"If a thing's worth doing, it is worth doing badly."
- G.K. Chesterton
[edit]
Past Contributions and Finished Projects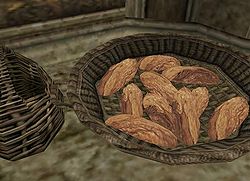 [edit]
Completed Fanfiction
[edit]
Articles I'm Proud Of
[edit]
Current Projects
Improving Tamriel:Races and Tamriel:Factions articles.
Editing the detailed quest walkthroughs for clarity and to make them easier to follow.
Improving grammar, spelling, cohesion and consistency across the site.
Looking for Fanfiction requests from other editors!
"When the power of love overcomes the love of power, the world will know peace."
- Sri Chinmoy Ghose
[edit]
Status
[edit]
Future Projects And Ideas
Adding both a quick and detailed walkthrough to every Morrowind quest article.
Making location guides easier to follow.
[edit]
Stuff I've Seriously Messed Up
Hello and welcome to the Muffin! This is a rather cakey place where you can eat freely without having to worry about messing anything (Or anyone) up. It contains lots of examples of fruit that you can taste, squash, pulverise and make disparaging remarks about to see what happens. Enjoy!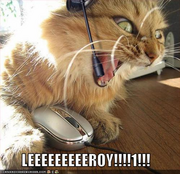 [edit]
Sandboxes
[edit]
External Links
[edit]
Elder Scrolls Links
Argonians' consistent facial expression.
Remember Dschinghis Khan? Well, Bethesda hired them to remix their hit, Moskau.
Be careful next time you decide to pick up the Adoring Fan.
I urge you to consider adding this to the list of Oblivion glitches.
Only Oblivion could spin you round like this!
"Life's like a ride in an amusement park. And when we go on it we think it's real because that's how powerful our minds are. And the ride goes up and down and round and round – it has thrills and chills and it is very brightly coloured. And it's very loud and it's fun for a while. Some have been on the ride for a long time and they begin to question: "Is this real or is it just a ride?" And other people have remembered and they come back to us and say "Hey! Don't worry! Don't be afraid ever! Because this is just a ride!"
And we kill those people.
"Shut him up, I've got a lot invested in this ride! Shut him up! Look at my furrows of worry. Look at my big bank account and my family. This has to be real!"
It's just a ride. And we kill those good guys who try and tell us that. Have you ever noticed? That we let the daemons run amok? But it doesn't matter, because it's just a ride and we can change it anytime we want. It's only a choice - no effort, no worry, no job, no savings or money.
Just a choice right now.
Between fear... and love."
- Bill Hicks
APATHY IS DEATH