User:Kalis Agea/Baurus Sandbox
The UESPWiki – Your source for The Elder Scrolls since 1995

This page is being used to write a rough draft of a dialogue narrative for the Baurus page. NOTE: The actual Baurus page has been duplicated here for reference purposes.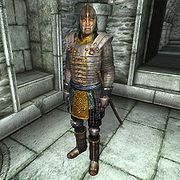 Baurus is a Redguard member of the Blades who starts the game as a bodyguard to Emperor Uriel Septim. As you quickly learn, however, Baurus is unable to save the Emperor from the assassination plot. Baurus takes the failure somewhat personally, and proceeds to spend his time searching for the assassins. Baurus wears a full set of Blade's Armor and wields his Akaviri Katana in combat. While sleeping or undercover, he wears leather boots, leather bracers, belted braies and a green wool shirt. He also carries a moderately sized amount of gold.
During the quest The Path of Dawn, you are tasked to meet up with Baurus and help his investigations; at this time you can usually find him at Luther Broad's Boarding House in the Imperial City Elven Gardens District. Although up until that quest, Baurus has been an essential NPC (i.e., unkillable), during this quest he can be killed. If he is killed, you can get a green wool shirt, belt braises, leather bracers and boots, his Katana , some gold and a bottle of mead off his body. Baurus is one of the NPCs whose body will never disappear.
If he survives, he will then relocate to Cloud Ruler Temple for the remainder of the game, here he will also have a full set of Blades armor you can remove from his body if he dies. If you talk to him at Cloud Ruler Temple, he will give you free skill boosts in Blade (+1), Block (+1), and Heavy Armor (+1). While Martin is still alive Baurus will watch him night and day. Also, he will fight by Martin's side in subsequent battles, such as the Defense of Bruma, and Light the Dragonfires.
If Baurus dies at any point and you talk to Jauffre about him while holding Baurus's Akaviri Katana, Jauffre will say"He will not be forgotten. He goes to Aetherius to join the other fallen heroes of the Blades. I thank you for recovering his sword. I will set it in a place of honor in the Great Hall of Cloud Ruler Temple.", then he will take it from you and do what he says by adding it to the wall above the fireplace in Cloud Ruler Temple next to the swords of Glenroy and Captain Renault. If you Ask about Baurus again, or if you simply haven't got his sword, he will say: "He served with honor. No Blade could ask for higher praise."
[edit]
Unique Dialogue
Baurus has an amazing amount of unique dialogue, as he is one of the main NPCs. However, a good portion of these topics are small tidbits of info not truly vital to the main questline.
At the beginning, Baurus will have two topics for discussion:
The Blades: We're the Emperor's bodyguards. Our job is to get him out of situations like this. Although I admit, things are not going according to plan.
Uriel Septim: My job is to make sure the Emperor gets out of here alive, and I intend to do it.
Martin: The scholars and priests can debate what happened to Martin in the end. What I know is that he sacrificed himself to save us all. As a Blade, I'm proud to have served such a master, if only for a short while.
Imperial Sewers: The Sewers run underneath the whole Imperial City. There are access points in every district. The Blades have occasion to use them in our undercover work, as well as a means to move around the city without attracting attention.
Mythic Dawn (during questiline): You should keep working on getting a hold of those other Mythic Dawn book that's out best lead right now. Mid-questline: They'll pay for the murder of the Emperor. Now that we know who they are, it's only a matter of time. After Paradise Quest: I'm glad it was you that put them down. My only regret is that I wasn't there with you. Just as noted, each dialogue is specific to the player's progress in the main questline.
Cloud Ruler Temple: I haven't been to Cloud Ruler since I was a young trainee. It feels good to be back. The Blades have always been here, and always will be.
[edit]
The Narrative Draft
The first words that Baurus will speak will be in response to Captain Renault.
Baurus! Lock that door behind us!
"Yessir."
His next words will be in response to Glenroy.
How could they be waiting for us here?
"Don't know. But it's too late to go back now."
He then regards the Emperor with: "Don't worry, sire, we will get you out of here." And after the Emperor has the player join the escape, Baurus will acknowledge you with: "Looks like this is your lucky day. Just stay out of our way." When the group is about to enter the next area, Baurus will stop the player: "You stay here, prisoner. Don't try to follow us." This will be his last unique dialogue for a while.
When the player finally catches up with the group, he will voice his shock to see you: "Do you think he† could have followed us? How could he?" As a side note, he is scripted to say‡: "I think that was the lasyt of them. Let me take a look around."
When Glenroy finds the gate to the sewers barred from the opposite side, Baurus will suggest: "What about that side passage over there?" When the group examines the room he will conclude: "It's a dead end. What's your call sir?" regarding the Emperor. When he charges out to combat the attacking assassins, he will order the player: "Wait here with the Emperor. Guard him with your life." and jump into battle.
Once Baurus finds the Emperor dead, he will enter a panicked dialogue. "The Amulet! Where is the Amulet of Kings? It wasn't on the Emperor's body." After this, the dialogue will go as follows (Bold dialogue is spoken my the player. Italic dialogue is Baurus' response or reaction).
The Emperor gave it to me.
Strange. He saw something in you. Trusted you. They say it's the Dragon Blood, that flows through the veins of every Septim. They see more than lesser men. The Amulet of Kings is a sacred symbol of the Empire. Most people think of the Red Dragon Crown, but that's just jewelry. The Amulet of has power. He must have given it to you for a reason. Did he say why?
I must take it to Jauffre.
Jauffre? He said that? Why?
There is another heir.
Nothing I ever heard about. But Jauffre would be the one to know. He's the Grandmaster of my Order. Although you may not think so to meet him. He lives quietly as a monk at Weynon Priory, near the city of Chorrol.
How do I get there?
First you need to get out of here. Through that door must be the entrance to the sewers, past the locked gate. That's where we were heading. It's a secret way out of the Imperial City. Or it was supposed ti be secret. Here. You'll need this key for the last door into the sewers."
The sewers?
There are rats and goblins down there. But from what I've seen of you, I'm guessing you're an experienced <Insert class here>§ At this point, the player will be prompted to chose a class. Whether or not the class chosen was the same, similar, or totally different from the one stated by Baurus, he will have three different dialogues:
If the same: "I thought so. A few rats and goblins won't give you any trouble."
If similar: "I wasn't far off. In any case, rats and goblins won't give you any trouble."
If totally different: "Really? I would never have guessed. Still, I don't think you'll have any trouble with rats and goblins."
After the sewers, then what?
You must take the Amulet to Jauffre. Take no chances, but proceed to Weynon Priory immediately. Got it?' At this point, the player can start one of two dialogues, dependant on a "Yes" or "No" answer to his question:
If the player choses the Yes, I understand option, he will say, Good. The Emperor's trust in was well-placed.
However, if the player says, No. Please explain more. Baurus will enter a longer dialogue than the former:
Take it easy. You'll be fine. I know this is a lot to take in all at once. No one's more surprised than me that I'm sending off an escaped prisoner with the Amulet of Kings! But the Emperor trusted you for a reason, and I trust the Emperor. The Amulet of Kings must get to Jauffre at Weynon Priory. He'll know what to do with it. Jauffre should know how to find the heir that the Emperor spoke of. The Amulet must reach Emperor Uriel's heir so a new emperor can be crowned!
What about you? What will you do?
I will stay here to guard the Emperor's body, and make sure no one follows you. You'd better get moving. May Talos guide you. He will also discuss the recovery of the swords of his fallen comrades (if any have been collected by the player). By the way, thanks for recovering Glenroy's/Renault's/my comrades' swords/sword. I'll see that they are/it is given a place of honor in the halls of the Blades.
No other vital dialogue will be heard from Baurus until the Path of Dawn quest. In this quest, the player will find him at Luther Broad's Boarding House. He will bluntly order the player to sit down: "Sit down. Don't say anything. Just do what I say." If you attempt to speak with him again before sitting down, he will say, "I'm being watched. Just sit down. Don't say anything." Once you do sit down, he will tell you a bit more about the situation. "Listen. I'm going to get up in a minute and walk out of here. That guy in the corner behind me will follow me. You follow him." If the player attempts to talk to him before the stranger attacks, he will simply say, "I told you to stay back and keep an eye on the guy who was watching me."
Once battle has concluded, Baurus will speak with you again, this time with more orders. "Search his body. I'll keep an eye out, in case any of his friends are nearby." Once the body has been searched, he will say, "Good work. I am glad to see you, by the way. You just caught me at a bad time. You're not easy to get a hold of. What have you found?"
---
†: This dialogue is gender-specific. In other words, if the player is male, Baurus will say "he" and if they are female, he will say "she".
‡: This was written using the Construction Set as the reference. In-game reference will be needed to confirm whether or not he says this (if another dialogue overwrite this dialogue or not, etc).
§: This dialogue depends on whether or not any of the player's skills have increased. If not, then he will not name a specific class.
[edit]
Related Quests