User:Skyrimplayer/Sandbox 1
The UESPWiki – Your source for The Elder Scrolls since 1995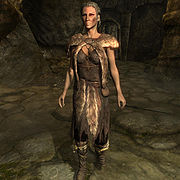 Anska is a Nord bandit wizard who resides in the High Gate Ruins. She will appeal to you for help in finding a scroll hidden within the ruins, thus activating the quest A Scroll For Anska.
[edit]
Quest Related Dialouge
Upon opening dialouge with her, you will have the following conversation:
Player:"Who are you?"
Anska:"I'm Anska. Are you here to help?"
Player:"Help with what?"
Anska:"I've finally located Vokun's crypt! The scroll I'm looking for just has to be here. Maybe you could help find it, I just know it's in here."

You will now be presented with three dialouge options: "What scroll?" to which she will reply. "It's probably meaningless to you, but according to family legend it links our bloodline back to Ysgramor himself." You may also ask, "Vokun?" and she will tell you, "Some old priest buried here long ago. I've been searching for his tomb for a few years now."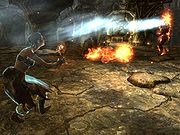 Finally, you can inquire, "What kind of help do you need?" and she will answer you, saying, "If Vokun is as powerful as I think, I may need a little help um ... dealing ...with him." Selecting the third option will allow you to ask, "What's in it for me?" and she will tell you, "You can have anything but the scroll of course." You may then answer "I'll help." or "Sorry, I can't help." Accepting will cause her to reply, "Great, with the two of us this should be easy." Opting to refuse her request, will cause her to say, "Oh alright. Well I'll be here for a bit if you change your mind." Accepting her request will cause her to begin following you, rejecting to help her will cause her to stand in the same spot, awaiting your return. As you proceed through the ruins,talking to her may cause her to say, "This is fun." or "You look strong." While in combat, she may say, "Sometimes I just like to watch them burn." Once you reach the ruin's alchemy lab, she may say, "An alchemy lab, it could be in here. It's worth a look." When you reach the room with the rigged soul gem, she may comment, "That gem looks suspicious to me." Upon reaching the lever room, she will tell you, "This looks like some sort of lever puzzle. We'll have to figure out the correct order to flip them." She may also hint to the solution by saying, "Maybe the order has something to do with the Symbols up there."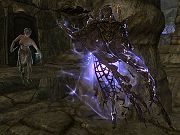 Upon reaching Vokun's throne room, and seeing him burst from his tomb, Anska will tell you, "That's Vokun, the guardian of the scroll. It must be just past him."
Upon Vokun's demise, she will comment, "Good riddance. Let's move on, the scroll must be in the next room."
When she spots the scroll, she will shout, "There it is! On the table."
Once you've picked up the sealed scroll, talk to her, and tell her, '"I've retrieved the scroll." And she will answer, "I cannot thank you enough for all the help." You may then give her the scroll, by saying, '"Here is the scroll." And she will respond, "And here's a little something for helping me out." Upon saying this, she will give you a Conjure Flaming Familiar spell tome, and her quest will end.
You may come back later, and ask, "So what does it say?"
And she will answer, "Let me look. This is a very exciting moment for me. Hmm...It's encrypted. It'll take a while to figure out."
[edit]
Related Quests