User talk:Minor Edits
The UESPWiki – Your source for The Elder Scrolls since 1995
[edit]
On Blackreach
Recently, actually a few minutes ago, you said that Blackreach was also under Winderhold on the lore page. While when I checked it I belied it was only under the Pale. If you would not mind, or could give me the information, I would like a list of the locations into blackreach, just so I could make a concrete decision on the matter. Edit:I've actually found that not only does it contain areas in the Pale and Winterhold, but also Hjalmarch.--Br3admax (talk) 00:24, 13 September 2012 (GMT)
Cool. I was basing the edit off the overlay picture currently on Blackreach's Skyrim page.

Minor Edits

Threats•Evidence 00:30, 13 September 2012 (GMT)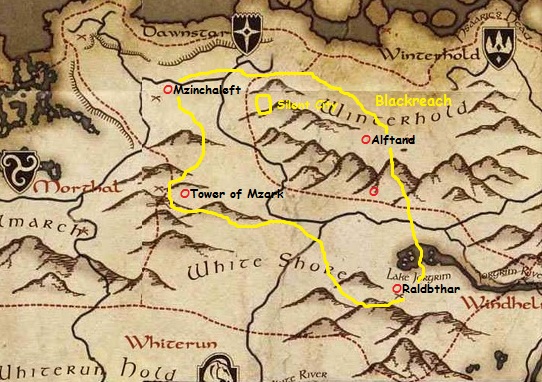 Not sure. You'd have to ask the author, I suppose.

Minor Edits

Threats•Evidence 15:28, 29 October 2012 (GMT)
[edit]
Tel Mithryn age
I was just wondering if I could get a second opinion on when Tel Mithryn was grown. When talking to the apothecary, you ask her if you grew the tower, and she says neloth did it himself before she was born. When you ask if she was from morrowind, she says that her mother sent her to solstheim on a boat when she was a child WHILE red mountain was erupting. Doesn't that imply that she was alive and able to take care of herself (probably between 5 and 15) in the 4E 5? and since neloth grew tel mithryn before she was born, it had to have happened earlier? I'm unsure of how much speculation and inference someone can put into a lore article, since I haven't really worked on them much. Thanks in advance! Jeancey (talk) 02:15, 10 December 2012 (GMT)
I'm pretty much just disseminating information I've found elsewhere on the wiki at this point. I've barely made it out of Raven Rock.

Minor Edits

Threats•Evidence 02:23, 10 December 2012 (GMT)

Perfect! By the time I had started editing, Varona Nelas, the steward of Tel Mithryn, was already dead in my game. She might have more information about Tel Mithryn and Neloth :P Jeancey (talk) 02:29, 10 December 2012 (GMT)
[edit]
Battle of Red Mountain
Hi. I noticed you are working on the revamp for the Battle of Red Mountain. You probably already know this, but here is some dialogue about Nchardak from Neloth during Path of Knowledge that you might wish to add into the article if you think it's relevant:
"These must be the "Great Workshops of Nchardak". Impressive even in ruins. In the city's days of glory, it was reputed to be able to assembe a complete automaton in a single day. Much of the Dwemer army at the Battle of Red Mountain must have come from here."
also
"Yes... here we are. This device shows the location of four more cubes in this section of the city. It looks like most of the cubes were moved to the lower levels, perhaps to try to control the flooding before the city was abandoned. Interesting. That would suggest that the city must have originally sunk during the first cataclysm of Red Mountain. Or that the Dwemer's servitors continued to try to preserve the city after their creators' dissapearance." --Jimeee (talk) 15:43, 8 January 2013 (GMT)
Thanks!

Minor Edits

Threats•Evidence 02:15, 18 January 2013 (GMT)
[edit]
House Cleanup
Hi, as you are a frequent lorespace editor and the marker for cleanup of Lore:House Redoran, I was wondering whether you could review my attempted cleanup, which is here, and let me know whether I've got the right idea, and what more needs to be done. Thanks, Enodoc (talk) 17:46, 17 February 2013 (GMT)
I made all the changes I intended to make, and went ahead and added them to the article. I think it covers everything you suggested, so I also removed the cleanup template. I plan to go on to the other house articles and clean them up as well using the same ideas; please let me know if I made any style errors before and I'll take those into account when going through the other pages. Thanks, Enodoc (talk) 19:36, 20 February 2013 (GMT)

I'm sorry for the late reply; I'm in the middle of an impromptu break. I'll try to get back here soon.

Minor Edits

Threats•Evidence 04:02, 5 March 2013 (GMT)
[edit]
Ack! Sorry about that...
Mouse slipped. I can't believe the rollback function can be done with one click on Recent Changes with no verification step... Oops. — TheRealLurlock (talk) 12:37, 19 March 2013 (GMT)
[edit]
Should've left it alone
I actually noticed this a few days ago and thought it was deliberate. If you hadn't have fixed it, nobody ever would've known. :) – Robin Hood  (talk) 04:55, 31 March 2013 (GMT)
I think it might have been deliberate, at the time, but looking back on it, I thought it looked stupid.

Minor Edits

Threats•Evidence 05:25, 31 March 2013 (GMT)
Sorry, I couldn't help myself. :) –

Robin Hood

  (talk) 05:18, 1 April 2013 (GMT)
That one was definitely unintentional. And also a little dumbfounding; I'm not sure how that happened.

Minor Edits

Threats•Evidence 05:28, 1 April 2013 (GMT)
[edit]
Good Call
Check out the template now; I think I've got you covered for your Oblivion and Aetherial places needs. It still requires a defined continent, for categorization purposes, but displays alternate text if you define your "continent" as Mundus, Aetherius or Oblivion. Also, yes: pay no attention to the accuracy of what is displayed in the rows of my sandbox example; it's there to show all my changes at once, regardless of whether they make sense :) But, I assume, ucwutididthar :P --Enodoc (talk) 20:51, 8 April 2013 (GMT)
Indeed; looks great! Thank you for working on the template; it has needed it for quite some time.

Minor Edits

Threats•Evidence 21:17, 8 April 2013 (GMT)
[edit]
confirmed=2 ?
What does confirmed=2 mean, as used by you in your latest edit on Dragonborn:Water Stone, second bug? (As opposed to the standard comfirmed=1) —MortenOSlash (talk) 11:50, 11 April 2013 (GMT)
It is no different. For consistency sake, we usually use confirmed=1, but you could use confirmed=yes, confirmed=15 or even confirmed=flargityblarg. All the template needs is confirmed=(something). Jeancey (talk) 16:21, 11 April 2013 (GMT)

I thought maybe so, but since it seemed so deliberately changed from confirmed=1 to confirmed=2, I wondered if there might be some undocumented thing. —MortenOSlash (talk) 16:40, 11 April 2013 (GMT)

I changed it to be consistent, though now that I said it, I am quite taken with confirmed=flargityblarg... Jeancey (talk) 17:05, 11 April 2013 (GMT)

As the UESP wiki is edited on basis of consensus, all we need is gather enough support for the confirmed=flargityblarg as the standard … —MortenOSlash (talk) 17:46, 11 April 2013 (GMT)

Honestly, I didn't mean to change it. It was deliberate without being intentional, if that makes any sense. I was playing around with the parameter and Show Preview to see if it displayed differently with different values, and I forgot to reset it before saving.
Flargitblarg has my support.

Minor Edits

Threats•Evidence 17:52, 11 April 2013 (GMT)
(←) Good to hear it was nothing I had missed out on, then. I sometimes get the feeling there is something I obvious I should have known or found out by myself that I am missing, so I have made a good habit to ask to be sure I have not missed. —MortenOSlash (talk) 18:23, 11 April 2013 (GMT)
No problem, I'll get right on it! :Þ – HotnBOThered (Talk to Owner) • (Stop That!) 20:17, 11 April 2013 (GMT)
[edit]
Maps on pages for places not on maps
I noticed you've been adding maps to some of the Lore:Places pages. This is fine - IF the location the article is about is actually featured on said map. If a location isn't labeled on the map, that map should not be used. It's better to have no map than one which is misleading and doesn't actually feature the location in question. — TheRealLurlock (talk) 12:28, 13 April 2013 (GMT)
I disagree. It's better to include a map of the general location where we know a place can be found than to include no map at all. And that's certainly better than using any of the garbage images of Arena (example). The danger of misleading anyone is virtually non-existent.

Minor Edits

Threats•Evidence 16:32, 13 April 2013 (GMT)
[edit]
Re: Neloth
Hi, thanks for the update. I'll add it to the sandbox. On a side note, do you have any thoughts on this issue I raised: Lore_talk:Kvatch#Antus_Pinder --Jimeee (talk) 09:28, 2 May 2013 (GMT)
[edit]
Borgas
Hi ME, I hope you don't mind, but I set up a separate Lore:Borgas page and transcluded it one the Lore:People page. I noticed your recent addition to Borgas so I tried to incorporate the parts I missed into the main page. If you can check it out and let me know it's ok? Thanks. --Jimeee (talk) 15:01, 7 May 2013 (GMT)
Looks great! The one little nit-pick I have: While he was a big proponent of the Alessian Order, I'm not sure if Borgas actually outlawed the traditional Nordic worship in Tamriel.

Minor Edits

Threats•Evidence 19:18, 7 May 2013 (GMT)