Shadowkey:Skelos Undriel
The UESPWiki – Your source for The Elder Scrolls since 1995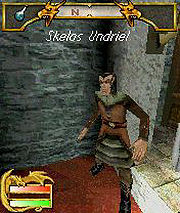 Skelos Undriel is a shadowmage who is first encountered amongst the prisoners in Delfran's Hideout. He is particularly grateful to you for releasing him as he believes his captors were contemplating starting a game of 'split the mage'. Skelos is next encountered in Azra's Crossing, where he tells you that a mage named Jagar Tharn is hunting him. He needs a place, out of sight, where he can prepare his defences and perpare for another matter, about which he will tell you when he feels safe. He suggests Earthtear Caverns as the ideal location for his new hideout.
Once the caverns are clear, he will tell you that while in Delfran's he overheard that somebody is using the ongoing war to build a "Shadow of Conflict" or "Umbra' Keth". Skelos insists that this shadow must not be allowed to fall into the hands of Tharn or any other likeminded mage. He seeks five magical crystals called Star Teeth with which to contain the creature.
Two possible fates await Skelos. If he receives his five teeth he will discover, tragically, that there are in fact seven such crystals, and that attempting to control the Umbra' Keth with only five is a fatally-flawed plan. If instead he is persuaded that Azra Nightwielder is correct and that the way to destroy the creature is to confront it in its crypt, he will reappear in Azra's Crossing to offer his congratulations.
[edit]
Quests Started