Skyrim:Cooking
The UESPWiki – Your source for The Elder Scrolls since 1995
This page or section is incomplete. You can help by adding to it.
needs Dragonborn recipes
For more information, see the help files, the style guide, and this article's talk page.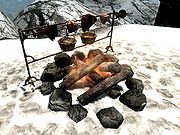 Cooking allows you to combine raw food and ingredients to create finished dishes. Cooked food provides more substantial benefits than raw food. Cooking can only be done at designated campsites, cooking pots and cooking spits. Specific recipes must be followed, which specify the raw foods that must be combined.
All of the recipes listed below are available at the beginning of the game, even if their associated ingredients are not. For recipe information related to baking, see this page.
[edit]
Cooking Recipes
Used (Raw Food)
Created (Cooked Food)
Delta
Delta
Cabbage × 1
0.25
2

HF
Apple Cabbage Stew × 1

Restore Stamina, 15 pts
Restore Health, 10 pts

0.5
8
-0.05
1
Red Apple × 1
0.1
3
Salt Pile × 1
0.2
2
Carrot × 1
0.1
1

HF
Beef Stew × 1

Fortify Stamina, 25 pts for 720 secs
Restore Stamina, 2 pts for 720 secs

0.5
8
-0.25
0
Garlic × 1
0.25
1
Raw Beef × 1
0.2
4
Salt Pile × 1
0.2
2
Cabbage × 1
0.25
2

HF
Cabbage Potato Soup × 1

Restore Health, 10 pts
Restore Stamina, 10 pts

0.5
5
-0.15
-1
Leek × 1
0.1
1
Potato × 1
0.1
1
Salt Pile × 1
0.2
2
Cabbage × 1
0.25
2

DB
Cabbage Soup × 1 DB

Restore Health, 10 pts
Restore Stamina, 10 pts

0.5
5
0.05
1
Salt Pile × 1
0.2
2
Clam Meat × 1
0.1
0
Clam ChowderHF × 1

Restore Health, 10 pts
Restore Stamina, 10 pts

0.5
5
-0.8
-1
Potato × 1
0.1
1
Jug of MilkHF × 1
1
2
ButterHF × 1
0.1
1
Raw Beef × 1
0.2
4
Cooked Beef × 1
0.5
5
0.1
-1
Salt Pile × 1
0.2
2
Ale × 1

Restore Stamina, 15 pts
Damage Stamina Regeneration, 30 pts for 30 secs

0.5
5

HF
Elsweyr Fondue × 1

Regenerate Magicka, 25 pts for 720 secs
Fortify Magicka, 100 pts for 720 secs

0.5
5
-2.25
-63
Eidar Cheese Wheel × 1
2
13
Moon Sugar × 1
0.25
50
Chicken Breast × 1
0.2
3
Grilled Chicken Breast × 1
0.2
4
-0.2
-1
Salt Pile × 1
0.2
2
Horker Meat × 1
1
3
Horker Loaf × 1
1
4
-0.2
-1
Salt Pile × 1
0.2
2
Garlic × 1
0.25
1

HF
Horker Stew × 1

Restore Stamina, 15 pts
Restore Health, 15 pts
Restore Health, 1 pt for 720 secs

0.5
8
-0.95
-1
Horker Meat × 1
1
3
Lavender × 1
0.1
1
Tomato × 1
0.1
4
Horse Meat × 1
2
3
Horse Haunch × 1
2
4
-0.2
-1
Salt Pile × 1
0.2
2
Leg of Goat × 1
1
3
Leg of Goat Roast × 1
1
4
-0.2
-1
Salt Pile × 1
0.2
2
Mammoth Snout × 1
3
6
Mammoth Steak × 1
2
8
-1.2
0
Salt Pile × 1
0.2
2
Pheasant Breast × 1
0.2
3
Pheasant Roast × 1
0.2
4
-0.2
-1
Salt Pile × 1
0.2
2
Potato × 1
0.1
1
Potato SoupHF × 1

Restore Health, 10 pts
Restore Stamina, 10 pts

0.5
5
0.2
2
Salt Pile × 1
0.2
2
Raw Rabbit Leg × 1
0.1
2
Rabbit Haunch × 1
0.1
3
-0.2
-1
Salt Pile × 1
0.2
2
Salmon Meat × 1
0.1
3
Salmon Steak × 1
0.1
4
-0.2
-1
Salt Pile × 1
0.2
2
Mudcrab LegsHF × 1
0.1
3
Steamed Mudcrab LegsHF × 1
0.1
4
-0.1
0
ButterHF × 1
0.1
1
Garlic × 1
0.25
1

HF
Tomato Soup × 1

Restore Health, 10 pts
Restore Stamina, 10 pts

0.5
5
-0.15
-3
Leek × 1
0.1
1
Salt Pile × 1
0.2
2
Tomato × 1
0.1
4
Cabbage × 1
0.25
2

HF
Vegetable Soup × 1

Restore Health, 1 pt for 720 secs
Restore Stamina, 1 pt for 720 secs

0.5
5
-0.05
-3
Leek × 1
0.1
1
Potato × 1
0.1
1
Tomato × 1
0.1
4
Salt Pile × 1
0.2
2
Venison Chop × 1
2
5
-0.2
-1
Venison × 1
2
4
Leek × 1
0.1
1

HF
Venison Stew × 1

Restore Stamina, 15 pts
Restore Health, 1 pt for 720 secs
Restore Stamina, 1 pt for 720 secs

0.5
8
-1.9
0
Potato × 1
0.1
1
Salt Pile × 1
0.2
2
Venison × 1
2
4