Skyrim:Hall of Rumination
The UESPWiki – Your source for The Elder Scrolls since 1995
Dwarven Ruin:
Hall of Rumination

# of Zones
1
Clearable
No
Respawn Time
10 days
Level
Min: 18
Occupants
Falmer
Console Location Code(s)
BlackreachZcell06
Region
Blackreach
Location
In Blackreach's city (western part of cave)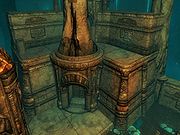 Hall of Rumination is a small Dwarven ruin within Blackreach containing Falmer.
A wall chest on the upper floor contains random loot. On the same floor a lever opens the gate opposite that leads up a staircase to a room with a chest and two garnets. At the end of this zone is an elevator to Blackreach; expect additional Falmer when exiting this way.
If you use the elevator at the end of this zone and turn right as you come out, there will be a Crimson Nirnroot at the end of the walkway.
The gate to the elevator does not open manually. Find the lever near the room in the same floor and activate it to open the gate.