Skyrim:Wolfskull Cave
The UESPWiki – Your source for The Elder Scrolls since 1995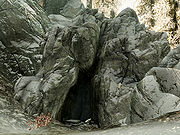 Wolfskull Cave is a cave west of Solitude filled with necromancers or bandits.
The occupants of this cave vary depending upon whether or not the related quest, The Man Who Cried Wolf, is active. The normal cave occupants are bandits, but the bandits are replaced by necromancers and their companions during the quest. The cave's standard boss chest is also unavailable during the quest. The second half of the dungeon, including all of the Wolfskull Ruins zone, is only accessible if the quest has been started.
[edit]
Related Quests
Note: This location is one of many potential targets for one or more of the radiant quests found on this page.
[edit]
Ore Locations
One moonstone ore vein can be found on a wall in the descent in the Wolfskull Ruins shortly after witnessing the energy channeling.
One iron ore vein is on the ground in front of the moonstone vein.
One quicksilver ore vein is located outside, 200 feet west-northwest of the cave.
In order to clear this cave, you must enter it before The Man Who Cried Wolf quest is active and kill the bandit boss, who is located in the ice cave section of the first zone.

If you want to update the "cleared" status, enter the following command in the console: SetLocationCleared 000192c8 1

There is an extra treasure chest that can be reached by jumping down from the terrace before the stairs up to the channeling.
Attacking the summoning circle before the rest of the cave is clear will cause them all to converge on you at the top of the tower, including a strong draugr. [verification needed — Is it leveled?]
There is a lever at the top of the tower that leads to the exit.
The Light Armor skill book The Refugees can be found on the ritual altar at the top of the tower.
Above the entrance, there is dead bandit with some good potions. Go around the back of the rocks and jump up onto them to access the body.
Because the necromancers in the ritual area start as neutral, when you get to the final area and can just see the ruins and the swirling blue mists, you can make the draugr kill all the necromancers for you. One or two arrows arced high over the heads of the necromancers to set them looking for enemies, then another arced high over the head of the draugr on the right of the tower to set him to hunting for enemies. They all call their friends, and shortly, the deed is done.
If you are sent to Wolfskull Cave as part of a radiant quest (such as Shalidor's Insights), you will not be able to complete the radiant quest while The Man Who Cried Wolf is active. You will need to first finish The Man Who Cried Wolf. ?