Skyrim:Necromancer
The UESPWiki – Your source for The Elder Scrolls since 1995
Necromancers are enemy spellcasters who specialize in Conjuration, particularly in the semi-legal school of necromancy: reanimation and suspension of the dead. They can be found in Warlock lairs or gathered around ritual or burial sites in the wilderness, frequently accompanied by skeletons or other undead, and will summon more undead allies when in combat. These mages belong to the Conjurer NPC class.
The type of necromancer you encounter depends on your level. You will continue to meet low-level necromancers even at high levels, but boss-level necromancers will always be at the highest possible level.




[edit]
Necromancers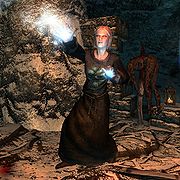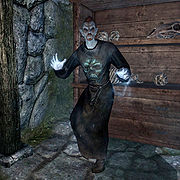 Necromancers rely on their reanimated allies and Destruction spells in combat, and carry a leveled dagger in case of close-quarters fighting (iron, steel, orcish, dwarven, elven, glass, or an enchanted dagger of any quality from iron to Daedric).
They wear a pair of boots along with necromancer robes, hooded necromancer robes, robes of Alteration, robes of Destruction, robes of Restoration, or robes of Fortify Magicka Rate.
In addition to the gear listed above, necromancers have a small chance to carry potions, poisons, soul gems (including a higher chance for black soul gems above level 20), Novice or Apprentice level spell tomes, ingredients (common, uncommon, or rare), recipes, and a small amount of gold.
On death, necromancers have a 10% chance to drop potions and poisons, and a 5% chance to drop one of the following scrolls:
Master Necromancers and Arch Necromancers have the same gear as lower-level necromancers, but have a 50% chance to carry a Staff of Chain Lightning, Staff of Fireballs, or a Staff of Ice Storms. Arch Necromancers do not have the chance to carry additional soul gems.
Name

Level

Race
ID

Sta.

Spells
Perks
Novice Necromancer
1
Breton

000551b0

50
100
25
None
Breton

000551b1

Dark Elf

000551b2

Dark Elf

000551b3

High Elf

000551b4

High Elf

000551b5

Imperial

000551b6

Imperial

000551b7

Apprenctice Necromancer
6
Breton

000551b8

142
158
25
Breton

000551b9

Dark Elf

000551ba

Dark Elf

000551bb

High Elf

000551bc

High Elf

000551bd

Imperial

000551be

Imperial

000551bf

Necromancer Adept
12
Breton

000551c0

192
198
25
Breton

000551c1

Dark Elf

000551c2

Dark Elf

000551c3

High Elf

000551c4

High Elf

000551c5

Imperial

000551c6

Imperial

000551c7

Necromage
19
Breton

000551c8

275
270
25
Breton

000551c9

Dark Elf

000551ca

Dark Elf

000551cb

High Elf

000551cc

High Elf

000551cd

Imperial

000551ce

Imperial

000551cf

Ascendant Necromancer
27
Breton

000551d0

367
323
25
Breton

000551d1

Dark Elf

000551d2

Dark Elf

000551d3

High Elf

000551d4

High Elf

000551d5

Imperial

000551d6

Imperial

000551d7

Master Necromancer
36
Breton

000551d0

467
383
25
Breton

000551d1

Dark Elf

000551d2

Dark Elf

000551d3

High Elf

000551d4

High Elf

000551d5

Imperial

000551d6

Imperial

000551d7

Arch Necromancer
46
Breton

001091bb

575
500
50
High Elf

001091b5
[edit]
Necromancer Bosses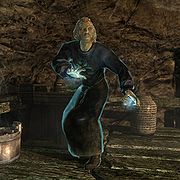 Apprentice Necromancer bosses have the same inventory as the lower-level necromancers listed above. Necromancer Adept, Necromage, Ascendent Necromancer and Master Necromancer bosses have the same inventory as the Master Necromancers and Arch Necromancers listed above, with the exception that Necromancer Adepts and Necromages have a 50% chance to carry a Staff of Firebolts, Staff of Ice Spikes, or Staff of Lightning Bolts rather than a Staff of Chain Lightning, Fireballs, or Ice Storms.
Name
PC Level
NPC Level
Race
ID

Sta.

Spells
Perks
Apprentice Necromancer
1
6
12
7
Breton

000e1035

175
190
25
Breton

000e1036

High Elf

000e1037

High Elf

000e1049

Necromancer Adept
19
14
Breton

000e1039

234
261
25
Breton

000e103a

High Elf

000e103b

High Elf

000e103c

Necromage
27
21
Breton

000e103d

317
333
25
Breton

000e103e

High Elf

000e103f

High Elf

000e1040

Ascendant Necromancer
36
30
Breton

000e1041

392
393
25
Breton

000e1042

High Elf

000e1043

High Elf

000e1044

Master Necromancer
46
40
Breton

000e1045

500
410
50
Breton

000e1046

High Elf

000e1047

High Elf

000e1048
[edit]
Wolfskull Cave Necromancers
These four necromancers are found accompanying the Ritual Master at Wolfskull Cave during The Man Who Cried Wolf. The group includes a Breton woman (0009655b), a Dunmer woman (000e1036), a Nord woman (000e1037), and a Nord man (000e1049). They will have the same leveled stats as a generic necromancer of the appropriate level, but are all named "Necromancer".
[edit]
Named Necromancers
[edit]
Related Quests
[edit]
World Interactions
Most necromancers have a morality of "Any Crime", which means they're willing to commit any crime. The necromancers found at Wolfskull Cave, however, have a morality of "No Crime," which means they are unwilling to commit crimes of any sort. Their aggression is still very high, though, so they will attack you on sight regardless.
All the generic necromancers that are Bretons are listed twice in the leveled lists, which means necromancers are slightly more likely to be Breton than one of the other races.
[edit]
See Also
For more information on necromancy in the Elder Scrolls universe, see the lore article.