Skyrim:Reachcliff Cave
The UESPWiki – Your source for The Elder Scrolls since 1995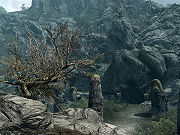 Reachcliff Cave is a small cave filled with draugr located northeast of Dushnikh Yal and southeast of Markarth.
The cave is also the plot location for the quest The Taste of Death and is noted to be the location of the shrine of Namira. When not on the related quest, the cave can only be partly explored. The cave has another entrance north of Dushnikh Yal with a map marker called Reachcliff Secret Entrance which counts as a second location for the "Locations Discovered" statistic.
A solitary iron ore vein can be found partway through the cave, and in one of the rooms, on the bottom of a bookshelf, is the Conjuration skill book The Doors of Oblivion.
[edit]
Related Quests
[edit]
Gallery