Skyrim:Brother Verulus
The UESPWiki – Your source for The Elder Scrolls since 1995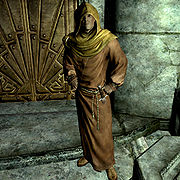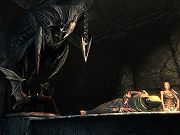 Brother Verulus is an Imperial priest residing in the Hall of the Dead in Markarth. He can initially be found outside of the hall in Understone Keep, having an argument with Thongvor Silver-Blood.
He wears a set of hooded monk robes along with a pair of boots. He carries the key to the Hall of the Dead along with a selection of common loot and gold. In combat, he relies on an iron dagger or a staff of frostbite.
Brother Verulus is essential to the quest The Taste of Death, as he informs the player to investigate the strange phenomenon of corpses being eaten in the hall. However, he later becomes a target himself when cannibals request the player to consume him. If saved after the quest, Verulus will refuse to continue speaking to the player and simply mention "I must return to Markarth".
[edit]
Related Quests
[edit]
Spells
Brother Verulus knows the following spells:
While on the quest The Taste of Death, and having asked him to accompany you to Reachcliff Cave, Brother Verulus will follow the player everywhere until he is brought to Eola. Thus, he may be used as a powerful follower in addition to any follower the player may already have if the player postpones returning to Reachcliff Cave.
Brother Verulus has multiple empty coffins inside the Hall of the Dead with his name on them even while he's alive