Skyrim:Malkoran
The UESPWiki – Your source for The Elder Scrolls since 1995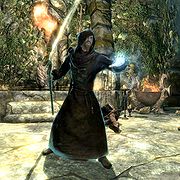 Malkoran is a Breton necromancer who resides in Meridia's Temple. The player is tasked with removing him from the temple during The Break of Dawn Daedric quest. He is accompanied by many Corrupted Shades which he has created from the casualties of the ongoing war. He has an extremely powerful frost spell that can potentially kill in one hit, and a great deal of health, making him extremely hard to kill.
[edit]
Related Quests
Malkoran's Shade spawns upon Malkoran's death. Resurrecting the original body of Malkoran and killing him again will cause a second Shade to spawn. The shade may still be hostile to the player.
As powerful as Malkoran may be, his shade seems bugged; it will not move through the doorway to his main chamber. This allows players to stand at the top of the stairs and shoot him to death with spells or arrows.
Malkoran may spawn with a Destruction staff: if so, he will use it in preference to his own spells, making him far less deadly at early levels.
Using the Wabbajack can end up killing Malkoran, making the fight a lot easier than fighting him normally.