Skyrim:Selveni Nethri
The UESPWiki – Your source for The Elder Scrolls since 1995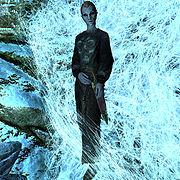 Selveni Nethri is a Dunmer necromancer trapped inside Southfringe Sanctum. After you kill Bashnag, a miscellaneous quest starts to help her escape the cave.
Before joining the necromancers, Selveni was arrested in Riften for practicing necromancy. Her daughter was sent to the orphanage. Instead of being executed, she escaped and joined up with Bashnag and his group of spellswords. She snuck back to Riften to reclaim her daughter, but couldn't find her. When she returned to Bashnag, he accused her of trying to sell him out to the Thalmor and left her for dead in a den of spiders outside the coven, until you arrive to her aid. Her final words before escaping is that she vows to find her daughter someday, and she gives you her thanks.
[edit]
Related Quests
It is possible for Selveni Nethri to become stuck in the entrance to the cave when releasing her. After "clearing the path" of Frostbite Spiders, return to Selveni and inform her the way is clear. She will run towards the cave entrance and may pass the exit plane you must use, then stop. This leaves her immediately inside the cave out of reach for talking or moving. ?

The Unrelenting Force and Ice Form shouts may be used to push her towards the exit so she can leave the cave. The quest might complete this way, then you can leave. This may make her hostile. A shot with a bow with the Power Shot perk may also cause her to stumble out of the cave.
ALLY METHOD: Another way is to wait 1 hour, which temporarily moves her within pickpocket range. Try to steal her staff (it works best if you fail). This will cause your ally to be hostile and they can attack her outside beyond the exit plane. Now the ally can knock her out of the cave.
Head to the entrance of the cave (leaving Selveni behind) and enter "prid 0006F120" then "moveto player"; she should proceed to leave the cave on her own accord, thus completing the objective.
Entering and leaving the cave several times may lead to finishing the quest by forcing Selveni to leave the cave.
Use Telekinesis to throw a bucket at her. Worked on Xbox360

Some players complain that she merely falls backward (towards you), then returns to the same place. Sometimes hitting her with a fireball a few times will knock her out of the cave. ?
Sometimes she will become unstuck herself, but will still ask to be cut down until you destroy the web. ?