Skyrim:Boulderfall Cave
The UESPWiki – Your source for The Elder Scrolls since 1995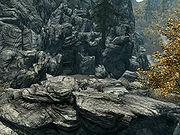 Boulderfall Cave is a small cave northwest of Riften and west of Shor's Stone inhabited by leveled necromancers.
The cave is fairly out of the way in the wilderness. There is a small game trail that runs near the cave, but it is most easily spotted by a hostile necromancer that acts as the apprentice for the master within.
[edit]
Interior
The cave is very short with a narrow descending path to a small room. Several bone rattle traps line the passageway making it very difficult to sneak up on the necromancer that is toiling away on an alchemy lab. Players may struggle with this high-level caster. Slaying the necromancer doesn't yield much loot for the effort either. There are stray alchemy ingredients, a trapped chest, a corundum ore vein and a copy of the Alchemy skill book Herbalist's Guide to Skyrim.
[edit]
Related Quests
NOTE:
Some radiant quests have a sizeable list of possible locations. These quests are not placed on individual place pages, and are instead listed at
radiant quest locations
.