UESPWiki:News
The UESPWiki – Your source for The Elder Scrolls since 1995
This is where news for the main page is written, whether it be about the Elder Scrolls or about our site. If you would like to write news for the main page, simply create a header in the "Proposed News" section and write a brief news story underneath. Others will come by behind you and clean it up, and an administrator may feature it on the main page once it becomes brilliant prose.
Currently Featured News

[edit] Elder Scrolls Online Scale Test —

February 25, 2014
The makers of the
Elder Scrolls Online
are preparing a scale test beta for this weekend. With the aim of having as many people as possible play, each beta invite will be accompanied by a secondary code to give to a friend. The NDA is no longer in place, and you are
encouraged
to post screenshots, videos, and even livestream your playthroughs. Participants this weekend will also unlock an exclusive monkey vanity
pet
for PC/Mac that you can have at launch.
[edit] UESP Reaches 20,000 Articles —

February 15, 2014
Almost six years to the month, the UESP wiki has doubled its content articles to 20,000, as confirmed by the Statistics page. With The Elder Scrolls Online due for release only a few short months from now, and our revamp of many item pages from simple redirects (in response to the UESP survey), that number is sure to increase dramatically. Special thanks to all editors who helped make it happen, and to all our readers who continue to provide the reason for our existence. We can't wait to share with you all our next 10,000 articles!
On a smaller note we have also reached 30,000 files, which includes images, patches for older games, and sound files.
[edit] Elder Scrolls Online Non-Disclosure Agreement Has Ended —

February 15, 2014
ZeniMax Online Studios has given Elder Scrolls fans the unique opportunity to beta test the newest installment of the franchise, Elder Scrolls Online, but not permission to share their experiences in the game. At long last, the ESO non-disclosure agreement has been lifted. While there is no beta session at the moment, future beta sessions will allow its players to share images, videos, and any information they want out of the game.
After several months of having to give willing contributors the cold shoulder, we ourselves will finally be able to accept many more additions relating to ESO. Industrious beta testers who wish to contribute to the wiki are now free to do so.
[edit] Elder Scrolls Online Prepares for Another Round of Beta —

February 4, 2014
Following the recent announcements about the pre-order and special edition bonuses, a new beta session has been announced. As always, the beta is restricted to the confines of the NDA that all participants have agreed to follow. Any information from within the beta cannot be shared outside of it, which means that any player of the beta should not share their discoveries on a site such as ours.
If you did not get a beta invite, be sure to check your spam folder, as well as the promotions tab for users of Gmail. If you still did not get one, all hope is not lost for those who want to get in. Curse has been given
500,000 beta keys
that they will be giving away to premium members of their site, with the rest of the keys being given away to regular members after their paid subscribers have gotten the first chance at them.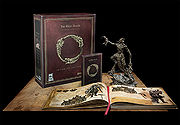 [edit] Elder Scrolls Online Pre-order and Special Editions Bonuses Released —

January 29, 2014
With Elder Scrolls Online only a few months away from public release, information on pre-order and special edition bonuses has finally come out. For starters, all people who pre-purchase the game through the Elder Scrolls Online store or pre-order at a participating retailer will receive the Explorer's Pack, which gives the player the ability to play as any race in any of the Alliances. Additionally, the Explorer's Pack will give the buyer a Scuttler vanity pet, and four bonus treasure maps for some additional loot. As a final bonus to all early purchases, all pre-purchases will allow the buyer to get into the game five days before the official release.
While the pre-purchase of the Standard Edition comes with all of the above, the newly revealed Imperial Edition will give the buyer the ability to play as an Imperial, who were previously announced as being unavailable for the game. The Imperial Edition will also give the player an Imperial White Horse, which can be summoned to be used as a mount, a mudcrab pet, and two Rings of Mara. The Rings of Mara can be used with another player to complete the Ritual of Mara, which will give the two additional experience while playing together from then on. Retail copies of the Imperial Edition will finally come with a 12 inch tall statue of Molag Bal, a map of Tamriel, and The Emperor's Guide to Tamriel, a 224-page guide to Tamriel, featuring annotations from the Imperial scholar Flaccus Terentius.
To go along with these announcements, a new trailer has also been made available to the public.
Update
: To further show off the Imperial Edition, an official unboxing of its contents by Lead Loremaster Lawrence Schick has been
released
.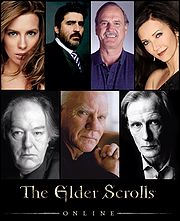 [edit] Elder Scrolls Online Voice Cast Revealed —

January 23, 2014
The main cast of voice actors for The Elder Scrolls Online was revealed today. The list features world-famous names such as John Cleese, Kate Beckinsale, Bill Nighy, and Michael Gambon. Lynda Carter returns as the voice of Azura, while other notable voice actors such as Jennifer Hale (Mass Effect) and Kevin Richardson (Rachet & Clank, Halo 2) make an appearance. The full list can be seen on the Bethesda Blog, and an accompanying video has been released.
[edit]
Proposed News
None
[edit]
Past News
Archives