Skyrim:Guardhouse
The UESPWiki – Your source for The Elder Scrolls since 1995
This article is being developed as part of the Skyrim Houses Redesign Project. If you see this tag it means the article can still be improved. Please see the project page for guidelines.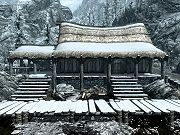 Guardhouse is the Hjaalmarch barracks on the south side of Morthal.
This barracks appears similar to other local houses. On the outside, it has a porch with two barrels, a target dummy, and a tanning rack. Benor often spends his time loafing here. The interior is divided into two zones: the Guardhouse and Morthal Jail.
[edit]
NPCs Living Here
[edit]
Interior
[edit] Zone 1: Guardhouse
This area is the barracks proper. Morthal guards are constantly coming and going from this area. There are four beds and two tables to serve their needs. The large table is laden with food and the guards eat there at meal times. The room also has two chests (with minor loot) and three barrels (vegetable produce or salt piles). Laying about is a prodigious supply of Nord mead, some coins, and a coin purse. Also present are the usual hanging herbs and small game.
[edit] Zone 2: Morthal Jail
This section is the local prison. It is here that those who have broken the law in Hjaalmarch are incarcerated when captured. It consists of a sparsely furnished, large room with the prison at the back. On one side of the room, there is a pile of firewood, some hay and a chair where the guard sits dosing. The other side of the room has several non interactive barrels and containers, a table with the Morthal jail key on it, three sacks, and two barrels (vegetable produce or salt piles). On top of one of the non interactive barrels there are three lock picks. Just outside the jail, the evidence chest and the prisoners belonging's chest are lined up together. The jail has an adept lock on its door. Within the jail, there are four sacks and three bedrolls.