Skyrim:Hamvir's Rest
The UESPWiki – Your source for The Elder Scrolls since 1995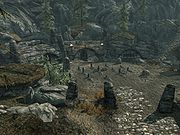 Hamvir's Rest is a small graveyard to the northwest of Whiterun, right next to Dustman's Cairn.
There are three skeletons and a draugr guarding the area. The three skeletons roam the area, while the draugr is hiding in a sarcophagus. There is a master-locked chest beside the sarcophagus, and a helm imbued with a random enchantment behind the grates to the left of the sarcophagus.
A total of eight nightshade plants can be found spread throughout the tombstones. Additionally, there are two purple mountain flower and two lavender plants.
It is the final destination of the Headless Horseman on his nightly travels. He disappears whether he makes it back here before dawn or not.
There is an iron ore vein west-southwest of the ruin.