Skyrim:Riverside Shack
The UESPWiki – Your source for The Elder Scrolls since 1995
This article is being developed as part of the Skyrim Houses Redesign Project. If you see this tag it means the article can still be improved. Please see the project page for guidelines.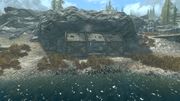 Riverside Shack is a small shack east of Gallows Rock and due west-southwest of Kynesgrove, along the eastern bank of the White River.
When first discovered, it becomes very clear what happened to the inhabitants, as a leveled hostile animal will jump out and attack you. After the battle, you are free to take all contents from the shack. Hanging on the doorway are three harvestable salmon. The shack contains the half-eaten remains of the owner, who at the time of the attack was apparently reading the book Pirate King of the Abecean, which you can find on the floor next to a fallen over chair.
Also, you can find a tanning rack, a bed you can sleep in with a pair of hide boots underneath, and a table with an iron dagger and a pile of books. At the bottom of the pile is a copy of the Light Armor skill book Rislav The Righteous, as well as a coin purse underneath the table. Directly opposite the table is a cooking pot above a fireplace, with two guaranteed samples of mudcrab chitin. Most importantly is the chest with an Apprentice-level lock in the corner, as it contains Treasure Map III.