Skyrim:Gallows Rock
The UESPWiki – Your source for The Elder Scrolls since 1995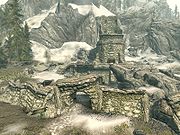 Gallows Rock is a single level fort occupied by the Silver Hand.
Four Silver Hand guard the outside and a locked random loot chest can be found in the remains of the tower. Inside the fort there are approximately 10 additional Silver Hand, a half dozen dead werewolves, and one live werewolf locked in a jail cell who will attack you if freed.
A number of food items, hides, and alchemy ingredients can be looted. In the center of the dungeon, past the werewolf jail, there is a large room with a tanning rack. Up the stairs on a table, you will find a One-handed skill book, The Importance of Where. Adjoining this room is a storeroom with a master locked chest. In the next room there are smithing tools and on a table in this room you will find a copy of the Smithing skill book Last Scabbard of Akrash. You can loot the corpse of the dead companion for wolf armor and boots.
Searching the outskirts of the fort will turn up the treasure chest for Treasure Map VII.
[edit]
Related Quests
NOTE:
Some radiant quests have a sizeable list of possible locations. These quests are not placed on individual place pages, and are instead listed at
radiant quest locations
.