Skyrim:Shor's Watchtower
The UESPWiki – Your source for The Elder Scrolls since 1995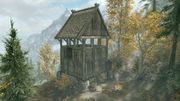 Shor's Watchtower is a watchtower that overlooks Shor's Stone in the Eastmarch-the Rift pass.
Shor's Watchtower is just north of Shor's Stone along the main road. Depending on who currently controls the Rift, the watchtower contains either the corpses of Riften guards or Imperial soldiers. A letter (of which there is both an Imperial and a Stormcloak version) promising reinforcements and warning of an impending attack can be found within. There are no signs of either the reinforcements or the attacking forces.
At times, the letter cannot be activated. ?

When the letter cannot be activated, sometimes looking at the ground below the table still makes it possible to interact.