Skyrim:Wreck of The Pride of Tel Vos
The UESPWiki – Your source for The Elder Scrolls since 1995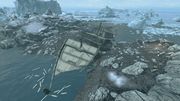 The Wreck of The Pride of Tel Vos is a shipwreck on a small island to the east of Winterhold.
It is populated by a small band of bandits who have established a camp around the wreck. On the western side of the wreck is a small camp with a novice-locked chest, a tanning rack and a cooking spit. On the eastern side of the wreck is a small island with some barrels. The ship itself is split in twain and a Bandit Chief lives in the captain's room. A bear trap is set directly in front of an augmented loot chest in that room. In the northern half of the ship at the waterline you can find a waterlogged chest containing the quest item: Lymdrenn Tenvanni's Journal. If you search the two small islands that the camps are on, you'll find some spiky grass, two iron ore veins and a corundum ore vein.
[edit]
Related Quests
During a random conversation with a Windhelm guard, the wreck is referred to as "The Eye of Talos". The map marker is still added correctly, however.