Lore:Bestiary O
The UESPWiki – Your source for The Elder Scrolls since 1995
---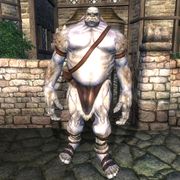 Ogres are large, dull-witted humanoids seen in Cyrodiil. They have great physical strength, but are vulnerable to poisons. Ogres are associated with Malacath.
Found in: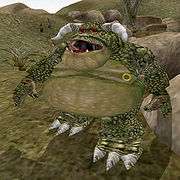 These are enormous Daedra with very little intellect, but which are chiefly sent into the mortal world to menace living things for the amusement of Daedra Princes. Ogrim are associated with Malacath. They are immune to normal weapons and can regenerate health.
Found in:
An all-too-common creature throughout Tamriel, the regular Orc is only to be feared in great numbers or by the amateur adventurer. Orcs also exist in Morrowind, Oblivion, and Skyrim, but as a playable race, not monsters. See entry on the Orc race for more information.
Found in:
[edit]
Orc Sergeant
Similar to the regular Orc, not quite as stupid and slightly more powerful, but not by much.
Found in:
[edit]
Orc Shaman
Orc Shaman are one of the few types of Orcs, with their spellcasting ability, which should be treated with at least some respect. Their favorite tactic is to become invisible at the first sight of their opponent and attack unseen.
Found in:
[edit]
Orc Warlord
One of the more powerful types of orcs, short of the Orc King himself.
Found in: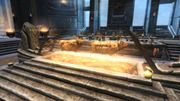 Oxen are common beasts of burden on Tamriel. They are raised for their meat.
Found in: