Lore:Bestiary W
The UESPWiki – Your source for The Elder Scrolls since 1995
---
[edit]
Wamasu
Wamasus are creatures that once inhabited in the Black Marsh. Northern men considered them to be intelligent dragons with lightning for blood.
[edit]
Werebear
A large form of lycanthrope said to be prominent in northern tundras of Tamriel. Almost thought to be folklore in Nordic cultures. Legend holds that smearing canis root on the trees surrounding one's home wards off werebears. Hunting packs of this strain have been found on the island of Solstheim.
Found in:
[edit]
Wereboar
A lycanthrope of the boarish persuasion which attacks with both fore arms as well as its long teeth. It requires silver or better weapons to be hit and anyone it bites has a small chance of becoming a wereboar themselves. The wereboar is found almost exclusively in High Rock.
Found in:
[edit]
Werecrocodile
A lycanthrope known to lurk in isolated swamps of Black Marsh and southern Morrowind.
[edit]
Weredaedroth
A lycanthrope created by Hircine to battle Sheogorath.
[edit]
Werelion
A lycanthrope found in Elsweyr, Black Marsh, and Cyrodiil
[edit]
Wereshark
A mysterious lycanthrope with no reputable sightings and possibly created by folklore or myth.
[edit]
Werevulture
A lycanthrope found in Valenwood.
[edit]
Werewolf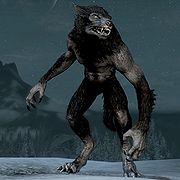 The most common of lycanthropes found in Tamriel. It can attack with both its claws and its teeth. Werewolves also can inflict lycanthropy with its bite. While Sanies Lupinus causes all werewolves to transform under the influences of the moons, the members of The Circle can control their beast forms. In return they must serve Hircine in the afterlife. Silver weaponry is very effective against werewolves.
Found in: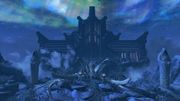 Whales are gigantic aquatic creatures rarely seen on Tamriel. The legendary Whalebone Bridge of Sovngarde is made from the spine of a whale.
Found in:
[edit]
Whispering Spirit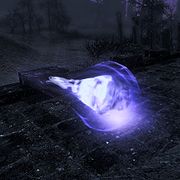 This wisp-like creature can be found in the oblivion realm of Soul Cairn. The undead creatures of this realm will often be found hunting these creatures.
Found in:
[edit]
White Horse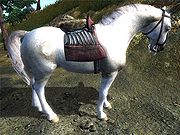 One of the five breeds of domesticated horses available in Cyrodiil.
Found in:
[edit]
Wickeder
Found in:
Variations: Mountain Wight, Tunnel Wight
Found in:
[edit]
Will-o-the-Wisp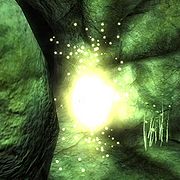 Luminous, magical energy beings. Extremely dangerous, since they drain the energy, Magicka, and fatigue of their victims, often gaining more energy than the adventurer can deal damage. When not attacking, they become invisible. Can only be harmed by silver, daedric, or enchanted weapons.
Found in:
[edit]
Winged Twilight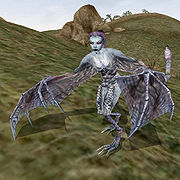 A Harpy-like, female-form Daedra with bat-like wings. They operate as messengers of Azura. Winged twilights are resistant to fire, frost, poison, and shock and can reflect spells.
Found in:
[edit]
Wisperill
Wisperills are luminescent films which float through the air in the realm of the Hist. They perform slow, colorful, aerial dances in the air. They were named by Mere-Glim and Fhena when Umbriel was brought to the realm.
Found in:
[edit]
Wispmother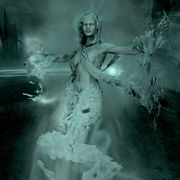 Wispmothers are magical energy beings found in the wilds of Skyrim. These spirit women appear to be either a higher form of Wisp, or creators of them. Able to teleport and restore their health, Wispmothers can also summon multiple shades, which are weak clones of themselves. Killing a Wispmother causes all of its attendant Wisps and Shades to die.
Many legends and theories exist which seek to explain the true nature of the Wispmother. Locals variously believe them to be remnants of the ancient Falmer, ghosts or natives of Hjaalmarch. Master Sadren Sarethi proposed that they are a forgotten type of lich from the First Era. Lydette Viliane of the Synod proposed that they are elemental personifications of snow or mist.
Found in: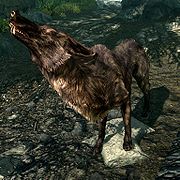 Wild ancestor of the domestic dog. Usually hostile towards invaders. See also: Timber Wolf, Snow Wolf, Ice Wolf, Dog, Hell Hound, Bonewolf, and Skinned Hound
Variations: Alpha Wolf, Dire Wolf, Shardwolf, Twilight Wolf
Found in:
[edit]
Wormmouth
Wormmouths are a type of vermin native to Hammerfell. They have a small maggot shaped body propelled on two legs. The mouth is almost as large as the rest of the body, and has three protruding claw-like teeth.
Variations: Horrid Wormmouth, Nubbed Wormmouth
Found in:
[edit]
Wraith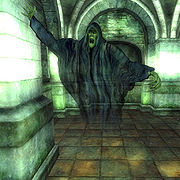 Similar to the undead ghost but usually more powerful, the wraith can do massive amounts of damage in direct melee and also has some spell casting ability. Like all ethereal undead, only silver or better weapons can do damage to a wraith.
Found in:
[edit]
Wrathman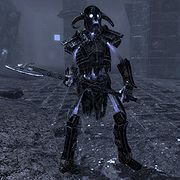 Wrathmen are skeletal undead found in the Soul Cairn.
Found in: