Oblivion:Knights of the Nine
The UESPWiki – Your source for The Elder Scrolls since 1995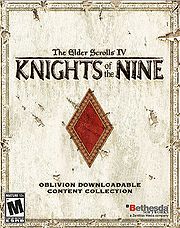 Knights of the Nine is an official plug-in released by Bethesda for Oblivion. KotN, as it is often abbreviated, is substantially larger than most of the other plug-ins. A list of frequently-asked questions and their answers can be found on the FAQs page.
A fallen King has been unchained from the darkness of Oblivion to seek vengeance upon the Gods who banished him. Only a champion pure of heart can vanquish the evil that has been released upon the land. You must heed the call, reclaim the lost relics of the Divine Crusader, and return the Nine to glory. New dungeons, characters, quests, and mysteries await. —Official Summary
[edit]
Quests
Unlike most of the official plug-ins, this plug-in adds multiple quests. Also, a quest is not immediately added to your list of current quests when you first install the plug-in.
[edit]
Gameplay Info
[edit]
Previews
[edit]
Factions
Two new factions are added with this plug-in:

[edit]
See Also