Skyrim:Abandoned House
The UESPWiki – Your source for The Elder Scrolls since 1995
This article is being developed as part of the Skyrim Houses Redesign Project. If you see this tag it means the article can still be improved. Please see the project page for guidelines.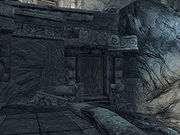 The Abandoned House is located in Markarth next to Arnleif and Sons Trading Company.
Although abandoned, the house is fully furnished. It has three rooms and a tunnel in the basement leading to a shrine to Molag Bal.
[edit]
Related Quests
[edit] Zone 1: Abandoned House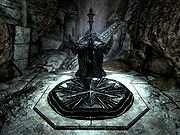 [edit]
Shrine of Molag Bal
The shrine dedicated to the Daedric Prince, Molag Bal. It's located deep within the Abandoned House.
It can be used as a free player home as items will not disappear from the containers.
There are no cooking, alchemy or enchanting facilities, but the house has the largest amount of storage containers in the game—62 in total.
A copy of the book Boethiah's Proving can be found under a bookcase in the second room (after the player reaches level 30), which leads into another Daedric quest.
There is an "Empty" shadowmark to the bottom left of the entrance door.