Skyrim:Arnleif and Sons Trading Company
The UESPWiki – Your source for The Elder Scrolls since 1995
This article is being developed as part of the Skyrim Houses Redesign Project. If you see this tag it means the article can still be improved. Please see the project page for guidelines.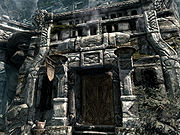 Arnleif and Sons Trading Company is a general goods store located just inside the gate of Markarth.
The store is managed by Lisbet, who inherited it from her husband, the son of Arnleif. She has around 750 gold, and will buy and sell all types of goods. The store consists of three rooms: a large main area where the store is located and two small bedrooms with double doors on the back wall. The store has fallen on hard times due to the Forsworn constantly capturing shipments of goods.
If anything happens to Lisbet, her assistant, Imedhnain, will take over running the store.
[edit]
NPCs Living Here
[edit]
Related Quests
NOTE:
Some radiant quests have a sizeable list of possible locations. These quests are not placed on individual place pages, and are instead listed at
radiant quest locations
.
Once Lisbet has been befriended by completing Lisbet's Missing Shipment, the shop can be freely looted, right down to openly picking the Strongbox towards the back and taking any gold within.
The store will stay open for business until you enter for the first time, after which it will keep normal hours.
The key to the store is carried by both Lisbet and Imedhnain.
There is a "Loot" shadowmark to the top left of the entrance door.
[edit]
Standard Merchandise
This is the merchandise found in the store's merchant chest. These items are only available if purchased from the merchant; they cannot be pickpocketed or stolen. They are restocked every two days.
The front door of this store may be locked at all hours of the day.

This bug is fixed by version 1.8 of the Official Skyrim Patch.
Picking the lock and entering the shop will resolve this, and the shop will lock/unlock at the normal times thereafter.