Skyrim:Lund's Hut
The UESPWiki – Your source for The Elder Scrolls since 1995
This article is being developed as part of the Skyrim Houses Redesign Project. If you see this tag it means the article can still be improved. Please see the project page for guidelines.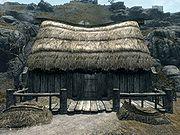 Lund's Hut is a small house located just northwest of Rorikstead.
Numerous skeevers may be found surrounding and inside the house. Inside, the dead body of a man named Lund lies on the bed. While there is little of interest inside the home, it does contain a usable cooking area along with other common household items and food, a bookshelf with some books scattered about and an unlocked chest. The bed, however, cannot be slept in. There is a bottle of poison on the table along with a ruined book.
A silver ring can be found on or near the small stone cairn near the house, which is lit with candles. There is a basket below the cairn which the ring may fall into.
The chest and end table can be used as safe containers. Unless you stop by every once in a while, the basket, large sack, and barrel will respawn, as well as the skeevers.
Two samples of blue dartwings can be found in the western corner of the hut, and one in the east corner, behind the bed. One sample of a blue butterfly wing can be found above the fireplace, on top of a broom.
There are several bowls on the floor by the fireplace, filled with chicken or pheasant breast, indicating that these skeevers may in fact have been Lund's pets. There is also a phial of poison on the dinner table.
Oddly, there is also a skeever head mounted above the fireplace.
[edit]
Exterior